US News: His Internship Led to Employment 'Before' Graduation
Luke Shumaker's dynamic approach to his Pitt-Johnstown engineering technology studies and opportunities resulted in a job offer before graduation. His expression of that situation to a Pennsylvania Society of Professional Engineers questionnaire was so impressive that it propelled Shumaker and his alma mater into the national spotlight.
Shumaker, a 2012 graduate and an engineer at HF Lenz Company in Johnstown, is the lead subject in a story about post-graduate job prospects featured in the US News & World Report's 2013 Best Colleges edition. 
"They were asking for engineers who recently graduated and entered the engineering field based on job prospects available after college," he said. "Based on my response, they put me in touch with Chris Gearon, who was writing the article for US News."
The unplanned notoriety was the result of a carefully formulated university program and an internship experience that led to his immediate employment.
"I did have an internship with HF Lenz while I was attending UPJ," he said. "I worked full-time in the summer. Then, during the school year, I was able to work part-time. Because of my internship experience and doing my senior project through HF Lenz, I was able to secure a full-time job offer from them before I graduated."
Shumaker sees Pitt-Johnstown as a university that is well-suited to engineering technology majors among many others.
"I would definitely recommend Pitt-Johnstown to any student looking into the engineering profession," he said. "The professors have a great basis of real-world engineering experience, and the program itself is well respected among many engineering firms. I knew the engineering technology program was well-respected across the whole state of Pennsylvania, and even on a national level thanks to the Concrete Canoe team.
"As far as other fields of study, I know lots of my friends outside of the engineering technology program are seeing success as well. They all had degrees across the spectrum at UPJ from Education to Computer Science."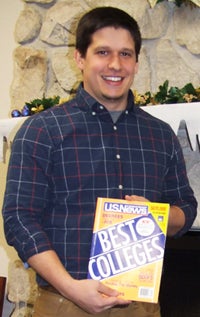 Shumaker enrolled at Pitt-Johnstown in 2008 after having graduated from Forest Hills High School in nearby Sidman, which is about 10 miles from campus.
"UPJ was close enough for me to commute, which I did my freshman and senior years in order to save money," he said. "It was a pretty easy decision for me." He also cited factors such as the financial aspect, former high school classmates attending Pitt-Johnstown, and the status of the engineering technology program. "UPJ combines the notoriety and pride of a large university like Pitt with the familiarity and comfort of a small campus."
Shumaker has many fond and lasting memories of Pitt-Johnstown that continue to shape his life.
"Well, meeting my wife was my best experience at UPJ, but as far as academics, I would have to say my senior graduation project was very rewarding," he said. "My group, and I participated in the ASHRAE Senior Design Competition, which required us to design a full HVAC system for the University of Chicago's Mansueto Library.
"I became more involved (with ASHRAE) after my senior project, and I am now the Johnstown Chapter Student Activities Co-Chair, along with one of my other senior project group members (Kaitlyn Stoltz) who is now working for HF Lenz as well."