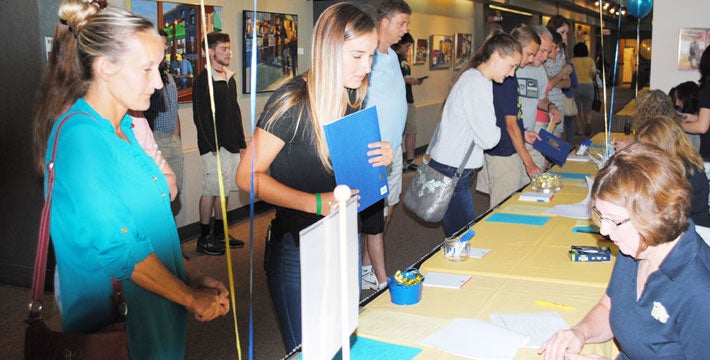 Welcome to Pitt-Johnstown!
Academic planning days familiarize an incoming student with the Pitt-Johnstown campus, faculty, staff, regulations and procedures, and offers first-term advising. The academic and social culture of the campus is presented in two phases: Summer Academic Planning Days and Move-In and New Student Orientation Agenda.
Part I : Summer Academic Planning Days
Thursday, June 18, 2020 (Business and Enterprise, Engineering, Undecided)
Thursday, June 25, 2020 (Education, Humanities, Natural Sciences, Nursing, Social Sciences, Undecided)
Thursday, July 16, 2020 (All)
Pitt-Johnstown offers four dates for Summer Academic Planning Days, based on your intended field of study. These sessions will introduce you to some of your faculty, provide you with an appropriate class schedule for the fall semester, and give you and your parents/guardians an opportunity to gain additional insight and have your questions answered by University staff representing the various campus offices.
Parents are invited to attend the Summer Academic Planning Day. Attending the orientation is optional for parents; however, there will be useful information available to parents, and an opportunity to speak with the different offices on campus.
If a parent/guardian is planning to attend the Summer Academic Planning Date, a fee of $10 must be paid at the time of registration. Once the orientation registration is complete, the system will create an Orientation Fees Calculation Form.
You will then need to print this form and mail a check or money order to:
Pitt-Johnstown Business Office
125 Blackington Hall
450 Schoolhouse Road
Johnstown, PA 15904
If you wish to pay by credit card, you may do so by calling our Business Office at 814-269-7040.
Part II: Move-In & New Student Orientation Program
This program is held in August and will help acclimate you to your new campus community through a variety of engaging programs, speakers, and activities. In addition, you will have an opportunity to meet other incoming first-year students prior to the start of the semester.
Students are billed automatically for the Orientation programs. A one-time fee of $90 will be billed to the student's fall account. The orientation fee covers both the Summer Academic Planning Dates and the Move-In & New Student Orientation held in August.