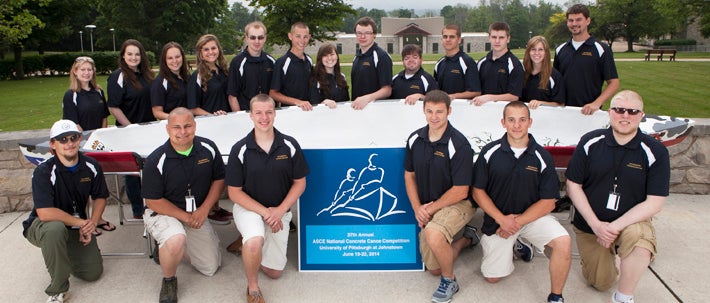 Curriculum »  | Minor Curriculum »  |  Courses »  |  Objectives and Outcomes  | Enrolled/Graduates | Faculty
The Pitt-Johnstown Civil Engineering (CE) program, which began in Fall 2015, provides a broad introduction to areas of civil engineering practice including construction materials and management, geotechnical, transportation, environmental and structural engineering along with design of infrastructure. An exciting extension is site development at the industrial and residential level.
Graduates will also acknowledge the need for personal and professional adaptability and will be prepared to pursue professional licensure, graduate study and professional growth during their careers.
The Engineering Division provides co-op opportunities using the Cooperative Education Program in the School of Engineering at the University of Pittsburgh. Representatives from the Co-op Program in Pittsburgh visit the Johnstown Campus twice a year. Sophomores and juniors who are interested in the Co-op Program can obtain materials in the Engineering office.
Accredited by the Engineering Accreditation Commission of ABET, https://www.abet.org
ENROLLED STUDENTS/GRADUATES
| | | |
| --- | --- | --- |
| Academic Year | Enrolled Students | Graduates |
| 2021-2022 | 145 | 53 |
| 2020-2021 | 153 | 25 |
| 2019-2020 | 192 | 41 |
| 2018-2019 | 182 | 20 |
| 2017-2018 | 126 | 0 |
Program Objectives and Outcomes
Program Educational Objectives

Pitt-Johnstown Civil Engineering graduates will:

Exhibit technical competence in the practice of civil engineering to develop solutions to increasingly challenging problems in their chosen area of the profession.
Perform competently within a team environment with highly developed communication skills and proficiency in leadership and management that contribute to their success professionally.
Contribute positively to the civil engineering profession and their communities by demonstrating professional responsibility through consideration of societal, ethical, environmental, economic, regulatory, and global issues as they pertain to engineering projects.
Participate actively in their professional development through professional society participation, pursuing professional licensure, and continuing education, as needed, to successfully adapt to changes in the profession throughout their careers.

Student Outcomes

Pitt-Johnstown Civil Engineering graduates will have developed the ability to:

identify, formulate, and solve complex engineering problems by applying principles of engineering, science, and mathematics.
apply engineering design to produce solutions that meet specified needs with consideration of public health, safety, and welfare, as well as global, cultural, social, environmental, and economic factors.
communicate effectively with a range of audiences.
recognize ethical and professional responsibilities in engineering situations and make informed judgments, which must consider the impact of engineering solutions in global, economic, environmental, and societal contexts.
function effectively on a team whose members together provide leadership, create a collaborative and inclusive environment, establish goals, plan tasks, and meet objectives.
develop and conduct appropriate experimentation, analyze and interpret data, and use engineering judgment to draw conclusions.
acquire and apply new knowledge as needed, using appropriate learning strategies.