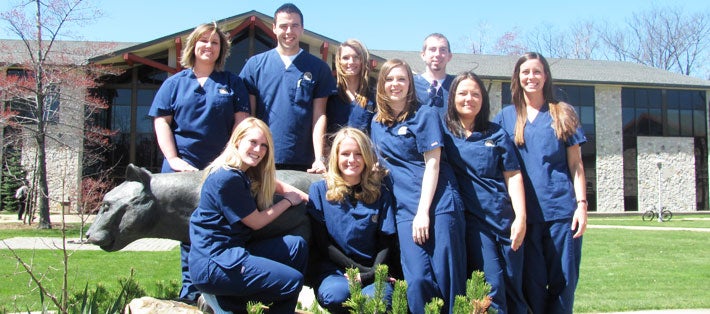 Goal  |  Program Overview  |  First-Year Schedule  |  Curriculum »  |  Courses »
Pitt-Johnstown's respiratory care program provides students with a special opportunity by blending advanced technology with patient care.
Respiratory care is a health specialty that offers a set of unique challenges in the areas of prevention, diagnosis, treatment, management, and rehabilitation of people with lung problems. This specialty is utilized in the hospital and home care situations, skilled nursing facilities, medical sales and health education. 
More than 100,000 Respiratory Care Practitioners (RCPs) in the United States work to evaluate treat and care for patients with breathing disorders. Some of these disorders include emphysema, asthma, chronic bronchitis, cystic fibrosis and even premature infants. A major aspect of Respiratory Care is working side by side with physicians, nurses and other health care team members managing life-supporting equipment and life-threatening situations. These involve patients ranging in age from newborn to senior citizen.
To learn more about the field of Respiratory Care, please visit the American Association for Respiratory Care website.
To learn more about the Commission on Accreditation for Respiratory Care (CoARC) and various other programs throughout the country, please visit CoARC's website.   
Outcomes data from the latest Annual Report of Current Status are posted on the CoARC website. Follow this link directly to the Programmatic Outcomes Data page. You may also write to or call CoARC at the following address / phone number:
Commission on Accreditation for Respiratory Care (CoARC)
264 Precision Boulevard
Telford, TN  37690
817-283-2835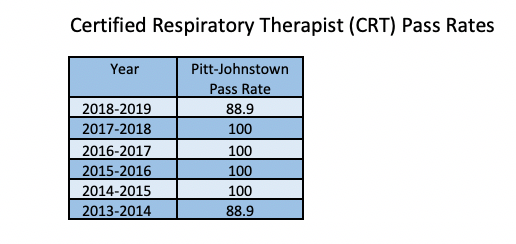 Respiratory Care Program Goal
Upon completion of the program, the graduate will be a confident, advanced-level Respiratory Therapist.
Objective 1:

Upon completion of the program, students will demonstrate the ability to comprehend, apply, and evaluate clinical information relevant to their roles as advanced-level Respiratory Therapists (cognitive domain).

Objective 2:

Upon completion of the program, students will demonstrate the technical proficiency in all the skills necessary to fulfill their roles as advanced-level Respiratory Therapists (psychomotor domain).

Objective 3:

Upon completion of the program, students will demonstrate professional behavior consistent with employer expectations as advanced-level Respiratory Therapists (affective domain).
Program Overview
CoARC

The Respiratory Care Program is a CoARC (Commission on Accreditation for Respiratory Care) approved 20-month Associate Degree program that qualifies graduates to become candidates for the National Registry Examinations. Approximately 25 students are admitted to the first term of the program by the college's Admissions Office. The top 20 students are then chosen from those who have a 2.50 or higher Quality Point Average at the end of the first term of study. All students who complete the program must maintain a minimum QPA of 2.50 in required professional courses.

The curriculum has been designed to prepare its graduates for an exciting and fulfilling career in Respiratory Care by providing classroom and up-to-date clinical education as required by CoARC. Students who successfully complete this AMA approved, 83 credit program have acquired the many skills necessary to be eligible for the National Registry Exam as administered by the National Board for Respiratory Care (www.nbrc.org).

Clinical Instruction

Our program stresses the importance of a good background in science to provide the basis for the in-depth knowledge necessary to understand the scope of Respiratory Care as it exists now and in the future. Students receive clinical instruction in the application of Respiratory Care to medical, surgical, neonatal, pediatric and post-hospital patients.  This includes rotations through:

General Respiratory Care floors
Intensive Care Units
Regional Intensive Care Nurseries
EKG/Cardiac Diagnostics
Quality Control
Hemodynamics
Pulmonary Function Laboratories
Anesthesia Department
Blood Gas Laboratories
Sleep Apnea Laboratories
Emergency Room
Cardiac Catherization Laboratories
Respiratory Home Care Companies
Skilled Nursing Facilities
Pulmonary Rehabilitation Departments

A leadership/management rotation has been added to involve students in administrative decision making. In addition, the two credit Advanced Techniques course allows students to further expand their interests in areas such as current trends in Critical Care and Organ Procurement. The team approach to healthcare involving cooperation with all allied health care providers is promoted. Currently our students rotate through four clinical affiliate hospitals, two homecare companies and one skilled nursing facility to broaden their scope of Respiratory Care.

Students are responsible for transportation to and from clinical sites.
First-Year Schedule
A sample of the likely first-year schedule for students in Pitt-Johnstown's Respiratory Care major (Please note that courses and course titles are subject to change):
Fall Term

Chemistry for Health Professionals Lecture and Lab (4 credits)
Anatomy and Physiology 1 Lecture and Lab (4 credits)
English Composition 1 (3 credits)
Respiratory Care Techniques 1 (3 credits)

Spring Term

Anatomy and Physiology 2 Lecture and Lab (4 credits)
Respiratory Pharmacology (2 credits)
Respiratory Physiology (3 credits)
Respiratory Pathology (3 credits)
Algebra (3 credits)
Selected Topics (3 credits)