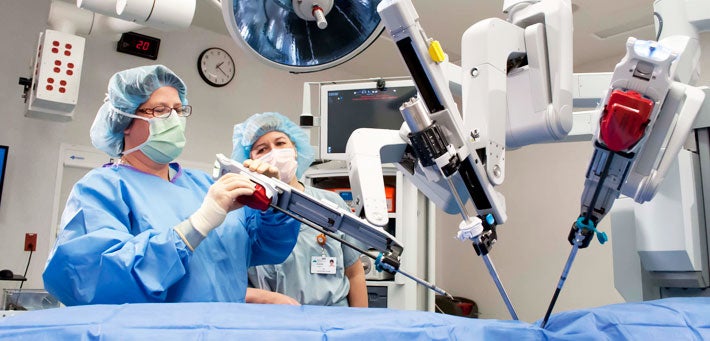 First-Year Schedule  |  Admissions  |  Curriculum »  |  Courses »
The University of Pittsburgh at Johnstown, in conjunction with Conemaugh Memorial Medical Center's Surgical Technology Program, offers a unique certificate program with an associate degree.
Pitt-Johnstown's 74-credit associate degree program is designed to give students the opportunity to develop both written and verbal communication skills, utilize critical and creative thinking skills, acquire organizational, leadership and administrative skills, as well as solve ethical dilemmas in real-world situations.
A liberal arts component has been built into the program to allow for the development of a well-rounded graduate. Students are required to choose three electives - either two social sciences and one humanities, or two humanities and one social science - outside of the Nursing and Allied Health Sciences Division.
The program's final three terms focus on the progressive role development covering operating room techniques and clinical practice. The clinical phase of the program includes 12 hours of orientation, 315 hours of classroom instruction in operating room techniques and pharmacology, and 1,035 hours of supervised clinical practicum.

Certified Surgical Technologist Pass Rates
Year
Pitt-Johnstown
Pass Rate
2021-2022
100%
2020-2021
100%
2019-2020
100%
2018-2019
75%
2017-2018
100%
2016-2017
100%
For more information on Conemaugh Memorial Medical Center's School of Surgical Technology, please visit https://www.conemaugh.org/school-of-surgical-technology.
---
First-Year Schedule
A sample of the likely first-year schedule for students in Pitt-Johnstown's surgical technology major (Please note that courses and course titles are subject to change):
Fall Term

Anatomy and Physiology/Lab
English Composition
Intro to Psychology
Elective

Spring Term

Medical Microbiology/Lab
Anatomy and Physiology II/Lab
Algebra I
Elective
Elective
Admission
High School Student

If you are currently a high school student who is interested in the field of Surgical Technology, we recommend that your high school curriculum include science and math courses such as Chemistry, Biology and Algebra.

Applicants for the Surgical Technology program must be accepted to the University of Pittsburgh at Johnstown.  After successfully completing two of the four prerequisite courses with a GPA of 2.0 or better, the student can then apply to Conemaugh Memorial Medical Center's School of Surgical Technology.  The hospital has a mandatory application and interview process that can be scheduled in the spring term of the student's first year. They will charge separate admission fees, ranging from $35 and up.

Note: All students seeking a Surgical Technology degree must successfully clear a criminal background check, an Act 33/34 clearance, drug screening and more before entering the clinical phase of the program. Failure to do so will prohibit clinical participation. It is important to note that, to become licensed, many states will inquire as to whether the applicant has been convicted of a misdemeanor, a felony or a felonious or illegal act associated with alcohol and/or substance abuse.

More information can be found on the Conemaugh Memorial Medical Center's Surgical Technology website: www.conemaugh.org/SchoolofSurgTech/

Fees

Additional fees from Conemaugh Memorial Medical Center are incurred to the Surgical Technology student and are subject to change.  The current fees are as follows:

Semester

Fee

Amount

Spring Term, 1st Year

Application Fee

Prerequisite Clearances

Enrollment Fee

  $35.00

  $48.00

$150.00

Fall Term, 2nd  Year

Clinical Lab – Academic Fees, Textbooks, Uniforms

 $1,070.00

Spring Term, 2nd  Year

Clinical Lab – Academic Fees

  $505.00

Summer Term, 2nd Year

Academic Fee (includes Association of Surgical Technologists Membership and Certification Exam)

  $540.00

Prior to advancing to the clinical portion of the Program, first-year courses must be completed with a QPA of 2.0 or greater with no course failures. Students are responsible for their own transportation to and from the clinical site approximately seven miles from Pitt-Johnstown.