Celebrating Pitt-Johnstown Alumni, April 7, 2018
The Pitt-Johnstown Alumni Association hosted its annual Alumni Gala on Saturday, April 7, 2018, 5 p.m., in Heritage Hall at the Living Learning Center, Pitt-Johnstown campus.
THANK YOU to all alumni and friends who attended or supported our recent Alumni Gala, which honored five of our most distinguished alumni.
View Alumni Gala Flickr album »
The 2018 gala was one of our most well-attended galas to date and honored more alumni than ever.
A special thanks to our two Gold Sponsors, Kappa Delta Rho fraternity and UPMC, and to our Patron Sponsors, Conemaugh Health System, Excelsior Wines, and Seton Hill University.
The Pitt-Johnstown Alumni Association, comprised of an all-volunteer board of alumni, serves the University of Pittsburgh at Johnstown and its alumni network of more than 22,000 graduates through alumni membership programs, fundraising and networking events, and student scholarships.
---
2017/2018 Distinguished Alumni Honorees
Alumni Legacy Award
Given to alumni who demonstrate a lifelong commitment to Pitt-Johnstown

William Mallinson '55, Business
A Johnstown native, Mr. William Mallinson' s generous and long-standing support of Pitt-Johnstown has provided education opportunity to over 200 students through three scholarships, including the Hubert H. Mallinson and Ruby G. Memorial Scholarship, established to honor his parents.  Mr. Mallinson created the scholarship to honor the contributions of his mother, Ruby, an elementary teacher in the Johnstown and Westmont schools and his father Hubert, a well-respected Johnstown banker who taught his son the value of hard work, saving money, devotion to family, and the importance of education. Mr. Mallinson also endowed a scholarship to honor his aunt, Mary E. Kocher, an elementary teacher who dedicated 42 years teaching elementary school in the Johnstown School District and his uncle, Stanley B. Kocher, a U.S. Army veteran who spent 43 years working on the editorial staff of the Tribune Democrat. Mallinson and his late wife Anne Putnam Mallinson have shared their generosity throughout University of Pittsburgh system. Together, their philanthropy has provided the opportunity for promising students to pursue their dream of a college education. 
Mr. Mallinson' s love for travel has taken him to more than 80 countries, including the Antarctic, where he was photographed proudly holding an edition of a PITT magazine. 
Distinguished Alumni Award
Honors alumni with significant accomplishment in their careers and a commitment to Pitt-Johnstown
Rob DeMichiei '87, Business Economics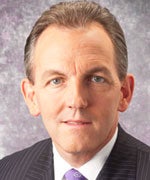 Robert A. DeMichiei is a certified public accountant and serves as Executive Vice President and Chief Financial Officer of UPMC.  Before joining UPMC, a $17 billion health care provider and finance system with more than 30 academic, community and specialty hospitals, international and commercial operations, and an insurance division with over 3.2 million members,  Mr. DeMichiei held various executive and management roles with the General Electric Company (GE) and Price Waterhouse in Pittsburgh.  Rob currently serves as the Finance Committee Chairman of the United Way of Allegheny County.  He also serves on the Board of Directors of UPMC Hamot, UPMC Passavant and UPMC Susquehanna Hospitals, the Pennsylvania Chamber of Business and Industry Board of Directors and the Seton Hill University Board of Trustees. Rob and his wife, Amy (a Pitt-Johnstown graduate), have four children and reside in Hampton Township, PA.
Outstanding Volunteer Service Award
Awarded to alumni who dedicate significant time and energy toward Pitt-Johnstown's success
Dr. Ernie Mantini '79 Biology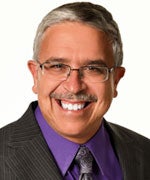 For the past 35 years, Dr. Mantini's hard work and commitment to Pitt-Johnstown and the Alumni Association has netted thousands of dollars for student scholarships. Since assuming leadership of the Mountain Cat tournament in 1985, one of the region's premier basketball tournaments, he has raised over $150,000 for the Pitt-Johnstown Alumni Association and their scholarship programs.  In recognition of his outstanding service to Pitt-Johnstown, Dr. Mantini received the Pitt-Johnstown Alumni President's Award and the 2007 Volunteer Excellence Award from Pitt-Oakland. He is an avid Pitt sports fan and member of the Panther Club. Dr. Mantini owns a successful dentistry business in the Johnstown area and resides in Richland Township with his wife, Linda '88.
Young Alumni Award
Awarded to accomplished alumni who are under 40 years of age and demonstrate a commitment to Pitt-Johnstown
Joseph Matthew (Matt) Sernell '06, Geography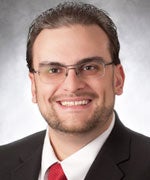 Mr. Sernell has been an active member of the Pitt-Johnstown Alumni Association Board of Directors and project committees since 2012. He has served as chairperson of the Homecoming committee and established the Pitt-Johnstown Alumni Golf Classic. He also organized the inaugural Mountain Cat 5K Fun Run to support local charities and helped raise thousands of dollars for student scholarships. President of the Geistown Borough Council, Mr. Sernell received the 2016 Distinguished Service Award from PA State Association of Boroughs as well as the 2017 Governor's Award for Local Government Excellence in the field of Promoting Community and Economic Revitalization.
Alumni Memorial Award
Remembers alumni who are no longer with us but demonstrated the qualities of Pitt-Johnstown through their life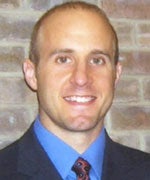 Samuel Hicks '99, Biology
Special Agent Samuel S. Hicks grew up in Scottdale, Westmoreland County, Pennsylvania. While a student at Pitt-Johnstown, Samuel was an active participant in the campus community as president of the Acacia Fraternity, women's soccer coach, and ice hockey player. After graduating in 1999, Samuel pursued a career in law enforcement, first as a police officer in Maryland. Samuel joined the Federal Bureau of Investigation in 2007. In August 2008, he was one of 11 agents chosen from across the country to attend a special training in Amman, Jordan. Tragically, on November 19, 2008, Special Agent Samuel S. Hicks was shot and killed in the line of duty while executing a federal search warrant at a home in Indiana Township near Pittsburgh, Pennsylvania. He was only 33 years old and left behind family, friends and colleagues. To honor Samuel, the FBI named their Baltimore field office "The Sam Hicks Building." In 2009, the Samuel S. Hicks Memorial Fund was established to support youth programs such as scouts and local soccer clinics, as well as families who have lost a loved one in the line of duty. The Fund also supports outstanding Pitt-Johnstown students majoring in the Justice Administration and Criminology program.