Dentist and Volunteer Leads Mountain Cat Tournament
Dr. Ernie Mantini, '79, owns a successful dentistry business in the Johnstown area and resides in Richland Township with his wife, Linda '88. He majored in bology while at Pitt-Johnstown.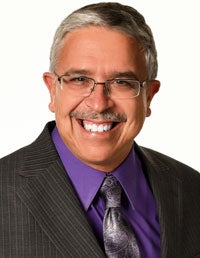 He has been named the 2018 recipient of the Outstanding Volunteer Service Award, which is presented to alumni who dedicate significant time and energy toward Pitt-Johnstown's success. He was honored at the annual Alumni Association Gala in April 2018.
For the past 35 years, Dr. Mantini's hard work and commitment to Pitt-Johnstown and the Alumni Association has netted thousands of dollars for student scholarships.
Since assuming leadership of the Mountain Cat tournament in 1985, one of the region's premier basketball tournaments, he has raised over $150,000 for the Pitt-Johnstown Alumni Association and their scholarship programs. 
In recognition of his outstanding service to Pitt-Johnstown, Dr. Mantini received the Pitt-Johnstown Alumni President's Award and the 2007 Volunteer Excellence Award from Pitt-Oakland.
He is an avid Pitt sports fan and member of the Panther Club.