Running, Reading, and Writing Define Alumnus/Longtime Employee
George Hancock, class of '75, enjoys reading, writing, and running – not necessarily in that order. The retired Pitt-Johnstown employee and alumnus has found a way to combine those passions.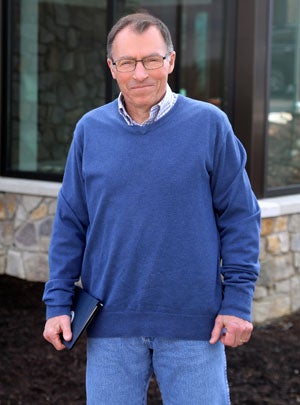 "I run because I can. I attempt to relay my roadside view through my writing," he said of his 45-year commitment to the sport and his hobby.
A serious book-reader since elementary school, he noted that he enjoys several different genres and is a collector. I am also a serious book collector with a nice-sized home library."
A book he can add to that collection is one he's authored, the recently published "My Running Odyssey."
Hancock has logged more than 102,000 miles since he began road running in 1973 and road racing in 1976. Each step of the way, he's also charted his experiences for various publications.
He said the book was written "to tell my running story over the past 45 years. I started writing for the Runner's Gazette in 1986, and The Tribune-Democrat and the Daily American in 2008. Plus I've submitted material to the running quarterly The Streak Registry, since 2001. My book is an extension of my columns.
"There is an adage: write about what you know. I know a lot about running; I see a lot while running; so I worked running themes into my articles."
Born and raised in the Greater Johnstown area, Hancock was a high school athlete who received a degree in history from Pitt-Johnstown and later worked for the university, having served in the book store, business office, and registrar's office. 
He's only missed 16 days of running since September 1, 1976. He ran on an 18-degrees-below-zero day in February 2015.
Hancock has completed more than 500 road races and is an advisor to and member of the Pittsburgh Marathon Hall of Fame committee.
He finished the 1984 Boston Marathon with a time of 2:58:55. Each of his marathon finishes have been under the three-hour mark. Hancock has run 10k and 5k events as well as half marathons. Every finished marathon was run under 3 hours. In 2008, at age 55, he won the Wings of Hope 5k with a 21:15 time.
Hancock notes that the pace he's mastered as a runner is what is most important in all facets of life.
"One can have a successful running career/program despite any obstacles that marriage, children, your job and the weather places in your path. This is a goal that anyone can achieve," he said.
Hancock resides in Scalp Level with his wife Brenda and son Cory, a 2014 Pitt-Johnstown graduate.
"My Running Odyssey," published by the Somerset Daily American, is available on their website's online store and at various local events and book-signings.