Legacy Laureate
Johnstown native and University of Pittsburgh at Johnstown graduate James Fallon was honored by the University of Pittsburgh as a 2012 Legacy Laureate. Fallon graduated from Pitt-Johnstown in 1977 with a degree in journalism. The Legacy Laureate program honors alumni who demonstrate the pinnacle of achievement in professional and civic leadership, and was launched in 2000.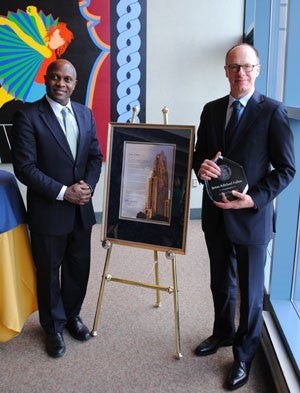 Fallon is currently editor of Women's Wear Daily, a Fairchild Fashion Media publication often referred to as "the fashion bible." Fallon began his journalism career while at Pitt-Johnstown, and interned with the Tribune-Democrat. He attended Stanford University on a full academic scholarship and earning his master's degree in journalism, he returned to Johnstown and rejoined the Tribune-Democrat staff as a copy editor.
In 1979, Fallon began what would become a distinguished career with Fairchild Publications, the precursor to Fairchild Fashion Media.
He was news editor in the company's 35-person Washington, D.C., bureau and, two years later, was appointed chief of Fairchild's London bureau.
Fallon covered continental Europe, contributing to Fairchild's business publications, as well as interviewing prominent members of the literary and arts worlds—and members of the British royal family.
He became editor of Women's Wear Daily in October 2001, and was recognized for excellence in 2003 as recipient of the prestigious Design, Impact, Vision, Atlanta award from AmericasMart.