HRC President Began Her 'Lifelong Learning Journey' at UPJ
Jonna Contacos-Sawyer '83 has made a successful business out of making businesses successful.
She has been president of HR Consultants, Inc. (HRC), a management and human resource consulting and training firm since 2001. Contacos-Sawyer holds a doctorate in business administration and is a member of University of Pittsburgh at Johnstown's Board of Advisors, contributing her invaluable expert business and human resource acumen to her alma mater.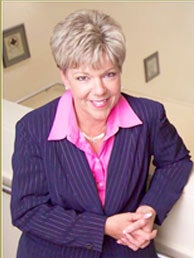 Contacos-Sawyer has led the growth and expansion of the Johnstown-based company that serves clientele across the country. Clients, both for-profit and non-profit, include government organizations, and businesses in financial, educational, health and human services, professional services, retail, manufacturing, environmental, and energy industries.
Jonna's specialization in areas of job analysis, strategic planning, and organizational development enables her to align business strategies and objectives with customized performance management systems that result in improved individual, team, and organizational performance. She has trained more than 7,500 professionals in more than 200 organizations, and developed and delivered train-the-trainer programs for in-house delivery.
But before all of this success, she was an undergraduate studying business management/economics at Pitt-Johnstown.
"It was the beginning of a lifelong learning journey," she said. "UPJ is the most beautiful campus in Pennsylvania with quality professors and staff that deliver exceptional and distinctive customer service."
Jonna earned her master's degree from Saint Francis University and a doctorate in business administration with a concentration in human resources from Northcentral University. She maintains professional certifications as a Senior Professional in Human Resources (SPHR), Certified Compensation Professional (CCP), and Certified Management Consultant (CMC).
She has authored numerous articles and is an active member in a wide range of community and 
non-profit organizations.
Jonna has been recognized by the Pennsylvania (PA) Department of Community and Economic Development as one of PA's Best 50 Women in Business, Jonna was also chosen as 2003's PA Entrepreneur award winner in the small business category, was named HR Person of the Year in 2004 and again in 2007 by Cambria-Somerset HR Association, and Jonna was selected and served as the Executive in Residence at Saint Francis University in 2008. 
In 2011, she was selected to present educational sessions during the National World at Work conferences held in San Diego, CA and in 2012 also presented in Orlando, FL.