Major (League) Aspirations
Kaleb Fleck entered Pitt-Johnstown with the intention of pursuing a career in physical therapy and playing on the Mountain Cats baseball team. He earned his degree, but pursued a slightly different career path.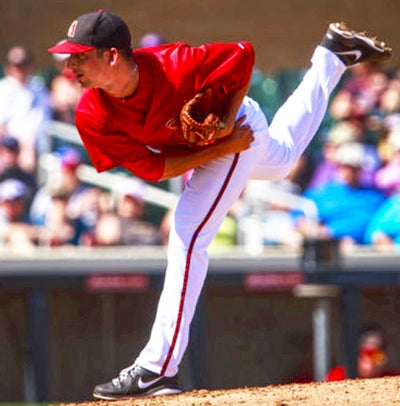 Fleck, class of '12, was selected by the Washington Nationals in the minor league phase of the Rule 5 draft in the 2017 Winter Meetings. Fleck had spent six seasons with the Arizona Diamondbacks organization.
He reportedly retired from professional baseball in August 2018.
He was 19-12 with a 3.64 ERA in 250 career minor league games, all as a reliever. In 2017, Fleck was 2-2 with a 5.30 ERA and a save in 44 games.
He was was initially signed as a free agent by the Diamondbacks organization and, despite a few setbacks, his ascent has been steady.
In 2016, with the Reno Aces, Fleck endured injuries that limited his playing time and affected his statistics. Fleck, a relief pitcher, struck out 37 in 31 innings while posting a 5.81 earned run average.
In 2015, also with Reno of the Pacific Coast League, Fleck struck out 66 in 52 innings and had a 3.46 earned run average.
In 2014, Fleck pitched for Class Double-A Mobile, where the 6-foot-2 right-hander had a 2.56 earned run average, struck out 79 in 63.1 innings, recorded 17 saves, and compiled a 7-3 record. He was promoted to Reno in time to participate in the PCL playoffs. In the weeks that followed, the organization added him to the roster of the Salt River Rafters of the six-team Arizona Fall League (AFL), a top prospect league owned and operated by Major League Baseball. The AFL is considered a proving ground, with nearly 60 percent of its players having made a Major League roster since.
Before Fleck encountered warm winters and the near-reality of a baseball dream, there was the University of Pittsburgh at Johnstown.
"I chose Pitt-Johnstown because, at the time, academics were my number one concern and playing baseball was a way to help pay for my education," said the Claysburg-Kimmel High School grad. "I never dreamed coming out of high school that it would lead to me playing professional baseball."
"Kaleb was an excellent student athlete, a great young man, very hard worker, and is blessed with a golden arm," said Pitt-Johnstown baseball coach Todd Williams, noting that Fleck's fastball is consistently in the mid-90 mph range. "He is one of the most personable student athletes I have ever coached, he leads by example, both on the field and in the classroom."
Fleck studied pre-physical therapy and earned a biology degree. He said he found an academic/athletic equilibrium at Pitt-Johnstown.
"I would recommend the biology/pre-physical therapy major to anyone," he said. "It was very challenging, but I had great professors and the smaller class sizes helped make things easier."
"Fortunately, I was able to maintain a pretty even balance between the two rather well. The hardest part was having to miss classes and labs during the week due to traveling for baseball games. But most of my professors were understanding and did their best to help accommodate my situation as long as I kept them informed with what was going on. There were a lot of times where I would have to make up labs by myself or take exams in their offices."
When recalling his collegiate days, he does not point to one particular game or achievement, but rather the sum of its parts.
"The relationships I made with the coaches and teammates I had and the friends that I made over the four years I spent at UPJ is something that I will value forever," he said. "It's a beautiful campus with a great college atmosphere and I enjoyed every year I spent there."