Fiction, She Wrote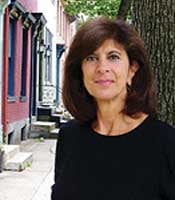 Dr. Kathleen George, class of 1963, was born in Johnstown, is a professor of theatre at the University of Pittsburgh, and is a published fiction writer. 
Her latest novel, The Blues Walked In, is published by the University of Pittsburgh Press.
Dr. George also authored The Johnstown Girls, Aftermath, Taken and Fallen, and a short story collection, The Man in the Buick. 
Dr. George has been granted fellowships at artists' colonies, including the VCCA and MacDowell. 
Her short fiction has appeared in journals and magazines including Mademoiselle, Cimarron Review, North American Review, New Letters, and Alaska Quarterly Review. 
She has been nominated for a Pushcart Prize and one story was listed among the Distinguished in Best American Short Stories. 
Dr. George has directed for the university mainstage and for the Three Rivers Shakespeare Festival. She holds an MA and a PhD in theatre and an MFA in creative writing. Prior to joining the Pitt faculty, she taught theatre at Carlow College. She is married to writer Hilary Masters.
Publishers Weekly offered praise regarding George's 2014 book The Johnstown Girls, reporting that, "George offers complex and rewarding storytelling that pays tribute to not only the magnitude of the disastrous flood but also the resilience of Johnstown and its citizens." 
For more about Kathleen, visit her website.