Maximizing the Pitt-Johnstown Experience
Luke Trotz '14 always made the most of his time at the University of Pittsburgh at Johnstown, where he participated in numerous student organizations and activities while earning his bachelor's degree.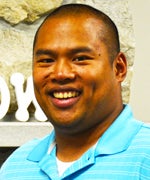 While an undergrad at Pitt-Johnstown, Trotz was a member of:
Delta Chi Fraternity
Student Government Association
Freshman Ambassador program
Programming Board
Inter Fraternity Council
Student Tour Guides and Admissions Representatives
Alpha Phi Omega
UPJ-TV
The Advocate
Best Buddies
Red Cross Club
Spring 2014 Spirit Committee
Spring 2014 Steering Group
Laurel Highlands Special Olympics Polar Bear Plunge committee
His crowning achievement, just prior to graduation in April 2014, was winning the Mr. UPJ competition and Spirit Award for garnering the most money in the Penny Wars. The event raised $2,000 for charity.
"For me, the best part of my time at Pitt-Johnstown was the time spent within the student body and student life," he said. "Participating in various activities with my classmates has been very rewarding. I learned a lot about myself, made long-lasting friendships, and gained knowledge and skills that will assist with my professional career."
That quest for achievement has carried over into his professional life. In July, he will become Student Activities Coordinator at Saint Francis University. Trotz began his career as a Pitt-Johnstown admissions counselor. He remains a member of the Alumni Association Board of Directors. Trotz earned a BA in communication from Pitt-Johnstown and recently received a master's degree in organizational leadership from Robert Morris University.
"I would highly recommend the communication program to any incoming student to Pitt-Johnstown," he said. "The professors provided an excellent learning environment along with the opportunity to gain relative, hands-on experience to assist us as we apply to internships and careers."
Trotz concluded that ambition and education came together in one unique place: "Pitt-Johnstown is everything that an individual could want during their college experience: amazing faculty and staff with small class sizes that allow close, individual attention; a great student body that is highly active within the community; and a beautiful campus located in an area that provides students the ability participate and attend events off campus."
Luke's travel territory is eastern Pennsylvania, from Bloomsburg to Philadelphia.
In his spare time, Luke is a baseball coach for players of all ages.