Developer, Leader and Visionary
Monty Hoffman '83 - a Washington, D.C., developer - is changing the landscape of the nation's capital.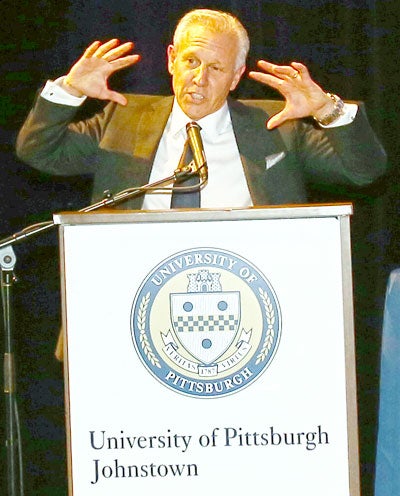 A June 26, 2018, story in The Washington Post asks: Do posh waterfronts make a city world-class? D.C. is betting hundreds of millions on it. The answer: the Pitt-Johnstown alum is rocking the nation's capital.
On Oct. 12, 2017, Hoffman-Madison Waterfront marked the opening of the first phase of its $2.5 billion Southwest waterfront development. He is CEO of PN Hoffman, which is a significant partner in the project that is remaking Washington, D.C.
The Wharf is expected to create 6,000 permanent jobs and deliver more than $90 million in new annual tax revenue at buildout, according to the Washington Business Journal. Read more >
A September 2017 story in the New York Timesreported that, at a cost of $2.5 billion, the waterfront project along the Potomac River will morph a struggling section into the largest in the District of Columbia. Hoffman said developers chose almost all local commercial establishments, eschewing national chains in favor of "authenticity throughout."
Hoffman's recognition includes Washington's Smart CEO's Future 50 list and Washington Business Journal Power 100. He serves on the boards of the Washington DC Economic Partnership, DC Students Construction Trades Foundation, D.C. Public Schools Engineering Advisory Board, and Federal City Council.
Hoffman graduated from the University of Pittsburgh at Johnstown with a Bachelor of Science, Civil/Structural Engineering Technology degree and was Pitt-Johnstown's 2016 Commencementspeaker.
Mr. Hoffman received the President's Medal of Distinctive Excellence, which is the highest honor that the University of Pittsburgh at Johnstown bestows.
The award, presented by Pitt-Johnstown President Jem Spectar, recognizes exceptional persons for their exemplary contributions toward making our world a better place. 
"Mr Hoffman is an exceptionally talented developer," said Dr. Spectar. "He is an exemplary leader in his field who has great vision, not just for architecture, but with a humanistic vision of how people can thrive in more livable, sustainable and vibrant communities."
President's Medal of Distinctive Excellence honorees are chosen on wide range of criteria including their social, cultural and humanitarian contributions, leadership in their professions as well as service to the community of humankind. Individuals receiving this prestigious honor make a positive difference in our world, their actions inspire and empower others to achieve their fullest potential; they contribute to human progress and enlightenment.
Mr. Hoffman also spoke at Pitt-Johnstown's October 2015 ceremony launching the new engineering program.
"His visit inspired me to do what some might call impossible," explained Bernard Dunegan, a junior civil engineering student. "Listening to him speak showed me what a Pitt-Johnstown graduate can do. He is truly inspirational." 
Mr. Hoffman formed PN Hoffman in 1993 with a single townhouse conversion, and has built the company into a market leader in the Washington, DC, metro area. With more than 30 years of experience, Hoffman actively leads the company's business development and market strategy as well as the design initiatives for every PN Hoffman project.
PN Hoffman is known for its sterling record of successful projects, careful planning and working with communities, thoughtful design and architecture, and quality construction. The results revitalize neighborhoods and bring new life to communities. The PN Hoffman team offers incredible talent and a culture which flourishes by creating value through imaginative problem-solving, diligence and lifting urban quality of life. PN Hoffman has been recognized locally and nationally with numerous trade association and community impact awards.
Other PN Hoffman projects in Washington, D.C., include:
The Wharf, a $2 billion mixed-use redevelopment to transform D.C.'s southwest waterfront into one of the most exciting urban waterfront environments in the world;
The Darcy and The Flats, a $250 million mixed use retail, parking, condo, and rental project in the heart of Bethesda;
525 Water Street, a mid-rise condominium project and church redevelopment;
Parcel O, a 140 unit residential condo development at The Yards next to Nationals Stadium; and
Riverside Residences, a 170 unit apartment building and church development in Southwest.