Former Mountain Cat Great Returns to Potugal
Nick Novak, class of 2013, has gone far with his professional basketball career – literally. The Pitt-Johnstown graduate will play for Vitoria Sport Clube in Portugal this year after one year with Oviedo in the Spanish Basketball League.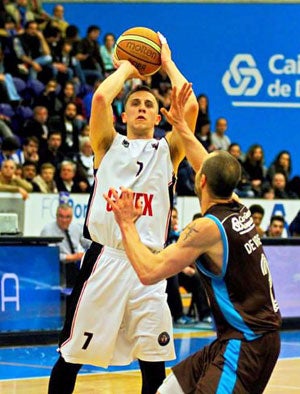 This marks a return to Portugal, where he'd played for two seasons after a stint in Germany.
In 2016-17, while playing point guard for Ovarense in the Liga Portuguesa de Basquetebol, Novak led the league in assists per game (5.8), was second in the league in scoring (20.4 points per game), and made the All-Star team.
During the summer of 2018, Novak returned to the United States to play in The Basketball Tournament (TBT). He played in the event in 2017 as well. Established in 2014, TBT is an annual five-on-five, single-elimination tournament that brings together teams of ex-NBA, former college and top international players for the chance to earn a winner-take-all $2 million prize that is split among the players.
Novak was part of Team Sideline Cancer, located in Bradenton, Fla. The team lost in the tournament's second round.
The 6-foot guard's up-tempo style of play as a pro is a carryover from a college career in which he set school records for assists, field goals made, and field goal and free-throw percentage, and scored the second most points in Mountain Cats' history.
"Nick Novak is the best scoring guard that I have had in my 28 years at Pitt Johnstown," said coach Bob Rukavina. "He could get his shot off anytime he wanted and finished at the rim better than any guard that I have had. He also shot around 54% from the field for his career which is almost unheard of for a guard. All of that while setting the career assists record.
"Nick comes from a great family and is as a quality person that you will ever meet."
According to Novak, the feelings are mutual. "Playing at Pitt-Johnstown was the best four years of my life, mostly thanks to coach Ruk and my teammates, they're an extension of him and the type of people he recruits," said Novak.
As for Pitt-Johnstown in general, he remembers it as, "a great campus. Each year, it grew on me. It was like a family. People take pride in the place. Looking back, I wouldn't have wanted to go anywhere else.
"All of my professors in business looked out for the students and the student-athletes. It was cool to see the professors at your games to support you. Like I said, it was like a family."
Prior to playing in Portugal, he played for the new Steel City Yellow Jackets team in the American Basketball Association in 2014-15. That followed the 2013-14 season, in which Novak played for Germany-based SSV Lokomotive Bernau in Berlin, and averaged a team-high 15.8 points per game.
Throughout his travels, the game he knows well has enabled him to adapt to new learning experiences.
"When I went to Germany, it was my first time overseas," he said. "It was my first job out of college. I had to figure everything out. I had to learn how to ride the train, use a map – and everyone was speaking German!
"But it's helped me grow up – a lot. It is a different language to add to the challenge of living on your own. The team is not your babysitter. You have to figure out how to live. Even things you take for granted, like getting groceries, can be a challenge.
"You learn a lot about yourself. You can't be hard-headed. You have to adjust."