Basketball Legend and Philanthropic Leader is King of the Court
Rich Ragan, '78, made his mark on the basketball court as a record-setting player and team leader that resulted in his membership in the Pitt-Johnstown Athletics Hall of Fame.
Now, as a champion of philanthropy, he leaves an indelible mark on the Pitt-Johnstown Sports Center playing surface, which is named for him as the: Rich Ragan Family Court.  
While playing records will someday fall, the philanthropic drive Mr. Ragan spearheaded will withstand.
On November 18, 2017, at the basketball home opener, the University of Pittsburgh Johnstown honored Mr. Ragan for his unwavering support of athletics at the University with the dedication of the court.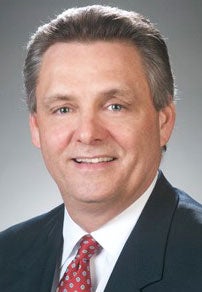 "Mr. Ragan is one of the most distinguished alumni of this institution, an eminently successful global business leader, and of course a legendary Hall of Famer, who has an abiding passion and love for his alma mater. We are deeply grateful for his philanthropic endeavors and are honored to name the athletic floor the Rich Ragan Family Court," said Pitt-Johnstown President Jem Spectar.
Throughout his professional career, Mr. Ragan has held many prestigious titles, leading companies in Michigan including AVL North America, Arcadis Giffels, MACTEC, and Instron. He was served as the Senior Vice President and General Manager and Owner/Partner of Midddough, Inc., an architecture and engineering company in Cleveland, Ohio, where he led the development/implementation of a project management operating system that won the Harold Kerzner Award from the Project Management Institute which recognized him for his dedication to the field of engineering project management. 
"When someone gives you the tools you need to be prepared for life, you never forget that," Ragan said. 
"This institution and this community are very special to me because this where I got what I needed to succeed."
He now serves as the Executive Director of Global Facilities, Safety and Security for American Axle and Manufacturing, AAM, an $8 billion global manufacturer of automotive and SUV axles and driveline components. 
Ragan was a three-time NAIA All-District selection and a two-time NCAA All-District choice and set Pitt-Johnstown records multiple times as a Mountain Cat basketball player from 1974-78.  Mr. Ragan, the second 1,000-point scorer since Pitt-Johnstown made the transition from a two-year school to a four-year school a decade earlier, broke Don Elzer's scoring mark of 1,147 points and held the title as the Mountain Cats' All-Time Leading Scorer with 1,303 points from 1978-92.  He currently ranks 13th on the scoring list.
His joined the NBA's developmental league, but his basketball career came to an end as a result of a car accident in 1979 that left him paralyzed for three days in addition to causing multiple broken bones and injuries. 
"I was a ball player. That was all I wanted to do," said Ragan, a Steel Valley High School graduate and native of Munhall, Allegheny County.
"When the doctors told me my career was over, I decided to go back to school for my master's degree. Then I went into the workforce with the same competitive spirit and level of determination I had put into basketball."