Retired Hormel Executive and Noted Philanthropist
Richard A. Bross is a Pitt-Johnstown alumnus – class of '73 – and a retired Hormel Foods Corp. executive. He was honorary speaker at the University of Pittsburgh at Johnstown's 2017 Commencement and received the President's Medal of Distinctive Excellence from Pitt-Johnstown President Jem Spectar.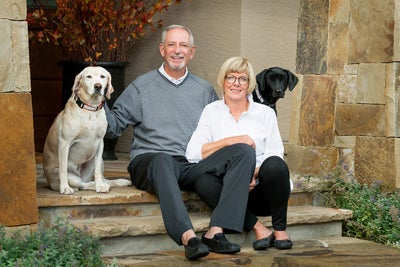 Mr. Bross graduated from Pitt-Johnstown magna cum laude with a BA economics and was a divisional scholar in economics. He began his career at Hormel Foods in Grocery Products sales in the Pittsburgh, Pa., area.
In 1981, he became a product marketing manager in the Grocery Products division at the Corporate Office (Austin, Minn.), where he held a variety of manager and director level positions.
In 1995, he became the vice president of Grocery Products and in 1999 was promoted to vice president of Hormel Foods, president of HFIC.
In 2001, he assumed the position of group vice president of Hormel Foods, president of HFIC, which he held until his retirement in December, 2012.
A noted philanthropist, Mr. Bross's generous contribution to scholarships at the University of Pittsburgh at Johnstown has earned him a place of distinction in the 1927 Cornerstone Society, the university's most prestigious donor honor roll.
His interest in supporting business students while promoting strong communications and ethical leadership is changing lives. Mr. Bross also contributes his talent and time as a member of the Pitt-Johnstown Board of Advisors.
He is currently President of the Arrowhead at Vail Homeowners Association.