Medical Institute President and CEO
Thomas Kurtz, class of '77, is the President and CEO of the Chan Soon-Shiong Institute of Molecular Medicine at Windber.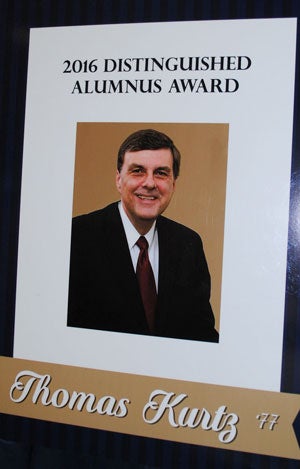 He earned the distinction of Pitt-Johnstown's Distinguished Alumnus of the Year in 2016.
Mr. Kurtz earned an MBA in Medical Practice Management and is one of approximately 600 people in the country with this degree. 
He is also a certified member in the American College of Medical Practice Executives (ACMPE).
In addition to his current position, Mr. Kurtz is Chairman of the Board of Directors for the American Red Cross Keystone Chapter and Chairman of the Pitt-Johnstown Board of Advisors.
He is also a member of numerous other boards, such as JARI and the Johnstown YMCA.
Mr. Kurtz has also developed and taught classes in Healthcare Sociology at Penn Highlands Community College and Mount Aloysius College.