From UPJ to SNL to Police Academy to Wicked ... and beyond
Tim Kazurinsky, class of 1971, went from studying journalism at Pitt-Johnstown to performing on and writing for Saturday Night Live in the 1980s.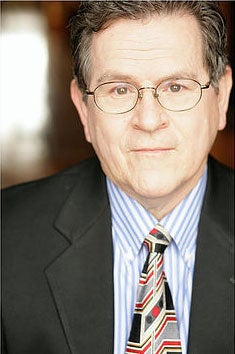 The Greater Johnstown High School grad had a stint at Johnstown's Tribune-Democrat, but left for advertising agency work in Chicago. But a funny thing happened on his way to advertising success. According to his biography, Kazurinsky had sought to gain confidence in presenting ad pitches and enrolled in an improvisation class with The Second City's famed comedy workshop. That funny thing that happened kept happening.
He became a member of the mainstage troupe in 1978. He caught the attention of Saturday Night Live veteran John Belushi, who recommended him to the show's then-executive producer, Dick Ebersol, who was impressed with Kazurinsky and hired him as a writer and cast member in 1981.
During his three seasons on SNL, Kazurinsky was known for playing numerous characters as well as doing celebrity impersonations. His fellow cast-mates included Eddie Murphy, Joe Piscopo, Julia Louis-Dreyfus and Mary Gross.
Kazurinsky was part of the show's 1984 writing team nominated for a Primetime Emmy Award for Outstanding Writing in a Variety or Music Program. During his time on the show, Kazurinsky played many recurring characters such as Dr. Jack Badofsky on Weekend Update, Madge the Chimp's husband in "I Married a Monkey," and Mr. Landlord in Eddie Murphy's "Mr. Robinson."
Kazurinsky left SNL in 1984. On television, Kazurinsky also to shows such as Curb Your Enthusiasm, Early Edition, According to Jim, Faerie Tale Theatre, The Moochie Kalala Detectives Show, Still Standing, What About Joan, and Married ... With Children.
He also appeared films including Somewhere in Time, Neighbors, Continental Divide, My Bodyguard, Shakes the Clown, Hot to Trot, Thrill Ride and the Police Academy series. As a voiceover artist, Kazurinsky has contributed to animation, hundreds of commercials and episodes of The Twilight Zone radio dramas.
As a screenwriter, Kazurinsky is credited for "About Last Night ..., Billions for Boris, For Keeps and The Cherokee Kid. His screenplay for Strange Relations earned him a nomination for the Writer's Guild of America Award for original long form, as well as a British Academy of Film and Television Arts nomination for best single drama.
Most recently, Kazurinsky traveled the country as the Wonderful Wizard of Oz in the first national touring company of Wicked. He made his Broadway debut opposite Jim Parsons and Christopher Fitzgerald in David Javerbaum's comedy An Act of God, directed by Joe Mantello.
A mainstay of the Chicago theatre scene, Kazurinsky has twice been nominated for the prestigious Joseph Jefferson Award for his performances. 
Kazurinsky is married to actress Marcia Lynn Watkins. They live with their two children outside Chicago.