Alumnus Facilitates Education Through Scholarship Opportunities 
William Mallinson, Class of '55, is a Johnstown native whose generous and long-standing support of Pitt-Johnstown has provided educational opportunities to more than 200 students through scholarships, including the Hubert H. Mallinson and Ruby G. Memorial Scholarship, established to honor his parents.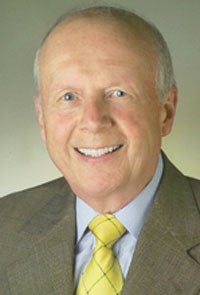 He has been named the 2018 recipient of the Alumni Legacy Award, which is presented to alumni who demonstrate a lifelong commitment to Pitt-Johnstown. He was honored at the annual Alumni Association Gala in April 2018.
Mr. Mallinson, a business major, created the scholarship to honor the contributions of his mother, Ruby, an elementary teacher in the Johnstown and Westmont schools and his father Hubert, a well-respected Johnstown banker who taught his son the value of hard work, saving money, devotion to family, and the importance of education.
Mr. Mallinson also endowed a scholarship to honor his aunt, Mary E. Kocher, an elementary teacher who dedicated 42 years teaching elementary school in the Johnstown School District and his uncle, Stanley B. Kocher, a U.S. Army veteran who spent 43 years working on the editorial staff of the Tribune Democrat.
He and his late wife, Anne Putnam Mallinson, have shared their generosity throughout University of Pittsburgh system. Together, their philanthropy has provided the opportunity for promising students to pursue their dream of a college education. 
Mr. Mallinson's love for travel has taken him to more than 80 countries, including the Antarctic, where he was photographed proudly holding an edition of a PITT magazine.