Dear Pitt-Johnstown community:
It is with profound sadness that I write to inform our campus community that Pitt-Johnstown first year civil engineering student, Samuel Benshoff, passed away on Monday evening as a result of injuries sustained in a weekend car accident near his hometown.
A talented and exceptionally motivated student athlete, Samuel was renowned for his diligent work ethic, tremendous energy, generosity of spirit, and constant pursuit of excellence. Much admired and beloved by all who knew him here at Pitt-Johnstown, Samuel definitely made a great and lasting impact on his classmates, fellow teammates, and so many other members of our community.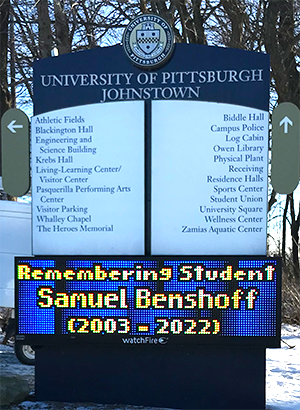 Samuel, a graduate of Waynesboro High School, was also a member of our soccer team who played in 15 games and made 12 starts as a defender for the Mountain Cats in 2021. 
Fellow students, soccer teammates, and faculty remember Samuel as an exceptionally hard-working and talented student and athlete who helped everyone be their best.  His classmates and teammates say "he was a great competitor," who was "relentless and battled hard in every game." They attest that he was someone "who always strived for excellence" and who consistently "helped motivate the team." As one teammate shared, "Sam was a great soccer player and even better person…he was a great young man and he left a very positive mark in our lives and he made us better people…"
Dr. Jerry Samples, Engineering and Computer Science Division Chair and Professor, remembered Samuel as an excellent scholar athlete who worked diligently, "taking on a difficult major while balancing the rigors of the soccer schedule." Pitt-Johnstown Athletic Director Pat Pecora also noted "Samuel was a true student-athlete, a dedicated teammate and friend to many."
Pitt-Johnstown offers heartfelt condolences to the family and friends of Samuel Benshoff. As we remember Samuel and grieve his loss, may we continue to be inspired by his passionate commitment to excellence and his dedication to his friends and loved ones. 
Students and other campus community members in need of grief counseling during this difficult period are encouraged to reach out to the Counseling Services team by phone at (814) 269-7119 or via email at OHCS@pitt.edu.
Jem Spectar
President