Program Curriculum » |   Suggested Course Schedule »  |  Faculty »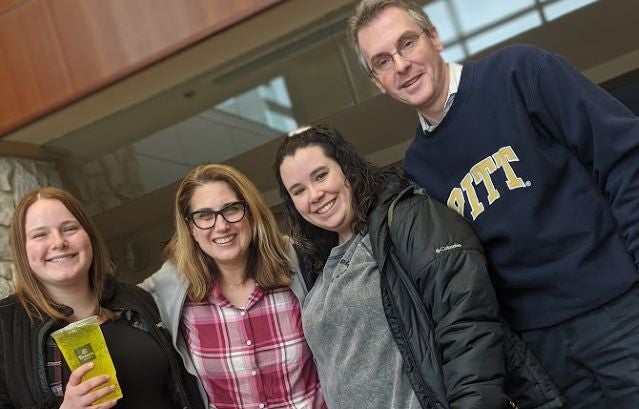 ---
The Pitt-Johnstown Middle-Level Social Studies Program Prepares our Students to Become:
Certified graduates of Middle-Level Social Studies Education who are eligible to teach all subjects in grades 4-6 and Social Studies courses in grades 7-8.
---
The program's curriculum offers various courses in the arts and sciences directly tied to field experiences. Graduates will learn to be flexible in their pedagogical practices and instructional methods and are prepared to enter the classroom of public, private, and charter schools within the Commonwealth. 
For more certification information, see the PDE website here. 
Social Studies specific courses taught in grades 7-8 vary across the Commonwealth, depending on the school, but may include: 
Civics or US Government 
American History 
World History 
Geography 
Information for Pre-Service Educators
Applying to the Upper-Level

Teacher candidates must complete and submit the Application for Upper-Level Studies to the education division office in order to enroll in Upper-Level courses. Applications for Upper-Level must be received, reviewed, and accepted prior to entry into Upper-Level coursework. The Basic skills tests are temporarily waived by the Department of Education.

For detailed information on upper-level requirements, please see the Education Division Program Handbook, Upper-Level section (p.18 - 20).

---

Applications must be complete and submitted by: 

January -or- May 15th to enroll in Upper-Level coursework for the SPRING term
September 15th to enroll in Upper-Level coursework for the SPRING term

---

Upper-Level Requirements:

Students may submit their applications when they will have met the following requirements for the term in which they plan to enroll in Upper-Level courses:

    ☐  Minimum of 32 earned credits (including transfer, 15 must be from Pitt-Johnstown)

    ☐  Earned at least a C (not C-) in each of the following:

           →  EDPSY 0006 and FDED 0001

           →   at least one ENG LIT course required for his/her program

           →   at least one ENG COMP course required for his/her program

           →   TWO math courses required for his/her program

    ☐  Passing Scores in the Three Basic Skills Examinations

           →   The Basic Skills Tests are temporarily waived by the PA Department of Education

    ☐  Three Completed Recommendation Forms

    ☐  Evidence of Early Field Experience (i.e. volunteer work with children)

    ☐  Successful Completion of Key Program Assessments 

          →    History and Philosophy of Education: Oral Screening

          →    History and Philosophy of Education: Philosophy of Education Paper

    ☐  Minimum Pitt-Johnstown cumulative GPA of 3.000

---

Helpful Links to Complete Your Application:

      ✅   50 hours of documented volunteer work (volunteer form)

      ✅   3 letters of professional recommendation (recommendation form)
Information for Teacher Candidates
Student Teaching

Graduation Requirements

The Professional Education Portfolio (PEP)

Teacher Certification in Pennsylvania
---
Program Contact
Mark Conlon, Ph.D. | Assistant Professor | mac699@pitt.edu | 814-269-7016