Pitt in Johnstown, 1927
Johnstown Junior College of the University of Pittsburgh held a ceremony on May 12, 1927, to commemorate its distinction as the first junior college with university affiliation in the Eastern United States; designed to be a two-year college to prepare students to transfer to the University of Pittsburgh to complete their degrees.
The Johnstown Senior High School building hosted the first class on September 24, 1927. The college used sections of the high school for education tailored to live-at-home students. Among the 150 enrolled for that first year, 40 were female. At $10 per credit, the cost of a year in college was $300.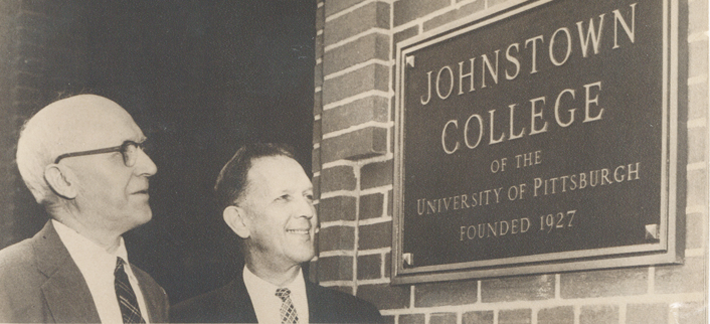 The Asphalt Campus (Cypress Avenue), 1946
An influx of ex-servicemen seeking a college education under the GI Bill of Rights in part prompted the need for a larger facility to accommodate the students. The former grade school in Johnstown's Moxham neighborhood contained 11 classrooms, seven laboratories, rooms fitted for student lounges and a gymnasium that could serve as an auditorium.
Moving Forward, 1958
Dr. Theodore W. Biddle became the first president of the Johnstown College of the University of Pittsburgh in 1958 and served until 1971. The academic scope broadened and, in 1959 as "three full years of college" were now available. In 1962, Dr. Biddle announced that a "gift of extensive acreage in Richland Township by the Wilmore Coal Company," and, by 1965, a successful fundraising campaign led to the opening of campus construction bids.
New Campus, 1967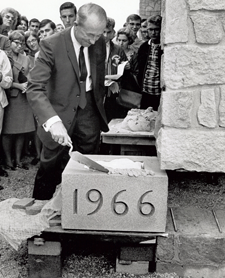 The Richland campus opened in fall 1967 with two buildings (Biddle and Krebs halls, then called South and North halls, respectively), three dormitories (Laurel, Maple, and Oak halls), and the Student Union, which housed a gymnasium and dining facility. Former United States President Dwight D. Eisenhower was the honored guest at the opening ceremony.
Freeman Era, 1971-74
President Jack E. Freeman announced a shift in priorities "from building buildings to building academic programs." Pitt-Johnstown became a four-year college in 1973, developed degree programs, and created divisions of Humanities, Education, Engineering Technology, Social Sciences, and Natural Sciences.
Wrestling was added as an intercollegiate sport in 1973. In 1974, the student newspaper was renamed The Advocate after being known as The Panther for 47 years, and the athletic teams' nickname was changed to Mountain Cats.
Blackington Era, 1974-1994
Dr. Frank H. Blackington III took the view that the college is "an equal among many other competing school of a large university."
Women's intercollegiate athletics begin in 1974 and, in 1975, Pitt-Johnstown became the first regional campus of a major university to be accepted into the NCAA.
The Engineering and Science Building was dedicated in 1975.
The college's dorms were used to house more than 400 people displaced by the Johnstown flood in the summer of 1977.
The women's basketball team went 26-2 and reached the final four in 1981.
Carlton Haselrig became the only six-time NCAA heavyweight wrestling champion, winning both Division II and Division I championships for three consecutive years. He was drafted by the Pittsburgh Steelers in 1989.
The Zamias Aquatic Center, the Pasquerilla Performing Arts Center, and the J. Irving Whalley Memorial Chapel were dedicated in the early 1990s.

Etheridge Era, 1994-2007
Dr. Albert L. Etheridge was president when Pitt-Johnstown invested in campus improvements, such as the opening of Blackington Hall and the upgrade of Owen Library, and in its future with the establishment of a capital campaign.
Mountain Cat wrestling teams were NCAA Division II Dual Meet National Champions in 1996 and 1999, under the direction of Coach Pat Pecora, who later became the first NCAA Division II coach to reach 500 victories.
Physics instructor David Willey set a then-world record as he walked 165-feet barefoot across burning coals on campus in 1998. Willey went on to appear on The Tonight Show with Jay Leno 19 times.
Spectar Era, 2007-present
Dr. Jem Spectar assumed his duties as the University of Pittsburgh at Johnstown's fifth president in 2007.
The first Pitt-Johnstown Athletics Hall of Fame was held in 2007.  The inaugural class of inductees included Lisa Britt, Sean Isgan, Carl Sax, Ed Sherlock, and James Wilkes.
The Alumni Association presented its first Distinguished Alumni Award to Congressman John P. Murtha ('60) in 2008.
The Mountain Cat Veteran's Program (MVP) was created in 2009 to recognize service performed by U.S. Military veterans and Pitt-Johnstown receives designation as Military Friendly School.
"Pitt-Johnstown @ Your Service," the most extensive community service initiative in campus history, was launched in 2009. It has evolved into a year-round initiative in which tens of thousands of service hours connect students, faculty, and staff with community organizations throughout the area. 
Bachelor of Science in Nursing Degree Program was introduced in 2009.
The 2010 Concrete Canoe team advanced to Nationals.
The Wellness Center and Biddle Hall renovations were dedicated in 2011 along with the Heroes Memorial.
A grand opening of the newly renovated Krebs Hall was held in 2012. 
The Nursing and Health Sciences Building opened in 2013 and Pitt-Johnstown's 15 NCAA Division II athletic teams became part of the Pennsylvania State Athletic Conference (PSAC). 
The Cook Family Idea Lab was dedicated in 2015.
The new Division of Business and Enterprise was launched and Engineering Technology transitioned to a new Bachelor of Science Degree in Engineering (BSE) program.
College Park Apartments received a major renovation in 2016.
Former President Bill Clinton visited campus to campaign for his wife, Hillary Rodham Clinton, during her presidential campaign.
The John P. Murtha Center for Public Service and National Competitiveness opened and a complete renovation of the John P. Murtha Engineering and Science Center took place in 2017.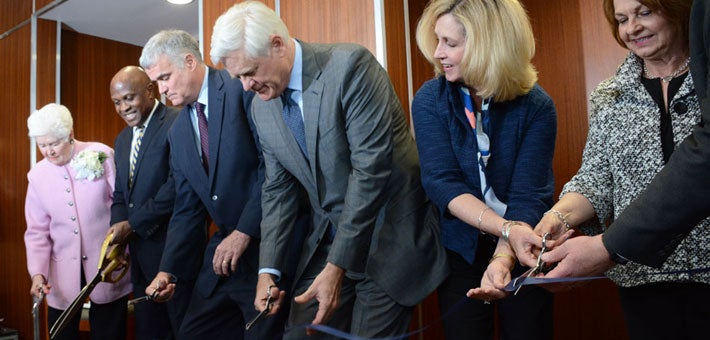 On February 7, 2020, Pitt-Johnstown's Pat Pecora became the All-Time Winningest Coach in college wrestling at all divisions of NCAA, plus NAIA and Junior College when UPJ defeated 11th ranked Mercyhurst 22-13. The victory was Pecora's 617th, surpassing Dale Thomas of Oregon State. In 41 seasons, his teams captured 21 NCAA Regional Championships and were NCAA Division II National Champions in 1996 and 1999. He has been the NCAA Regional Coach of the Year 16 times and has coached 12 individual national champions who have combined to win 19 national titles. He was inducted into the Pennsylvania Chapter of the National Wrestling Hall of Fame in 2017. 
Sources:
University of Pittsburgh archives
Pitt-Johnstown archives
The Evolution of a College, A Chronicle of the University of Pittsburgh at Johnstown 1927-1993, by Robert J. Hunter