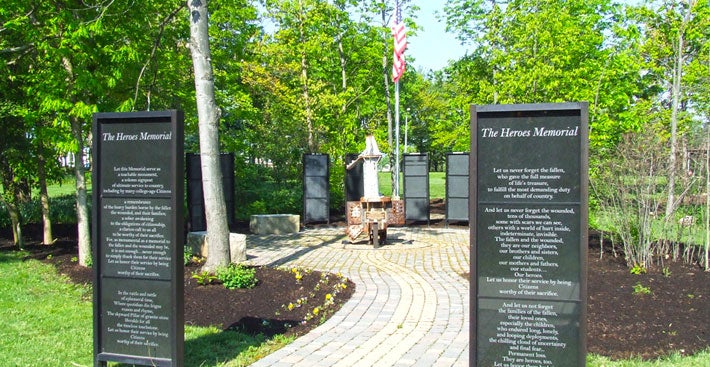 The University of Pittsburgh at Johnstown is the home to The Heroes Memorial, believed to be the only memorial of its kind on any college campus in the United States.
Nestled behind the J. Irving Whalley Memorial Chapel, it pays tribute to those who died on September 11, 2001, as well as the service men and women who have been killed in Afghanistan and Iraq. At the center of the memorial is a 3,500-pound steel I-beam from the World Trade Center, which was attacked on September 11.
More than 5,550 of the service men and women who were killed in Afghanistan and Iraq were between the ages of 18 and 24, representing the traditional college-age population in our country and the Pitt-Johnstown campus.
The first-of-its-kind memorial was dedicated on November 11, 2011, and is the site of an annual Veterans Day ceremony.
Fallen Heroes
Currently, The Heroes Memorial contains more than 9,000 names.
The names are those of the more than 3,000 victims of September 11, as well as the names and ages of 1,729 members of the US military killed in Afghanistan and the 4,456 soldiers killed in Iraq through August 22, 2011.
The Memorial also pays tribute to the more than 46,000 members of the military who have been wounded in hostile action in Afghanistan and Iraq.
"This memorial serves as a teachable monument, a solemn signpost of ultimate service to country, including by many college-age citizens. It is a remembrance of the heavy burden borne by the fallen, the wounded, and their families and is a sober awakening to the obligations of citizenship, a clarion call to us all to be worthy of their sacrifice. 

"As monumental as this memorial to the fallen and the wounded may be, it is not enough, never enough, to simply thank them for their service. Let us honor their service by being Citizens worthy of their sacrifice."
 - Jem Spectar, President