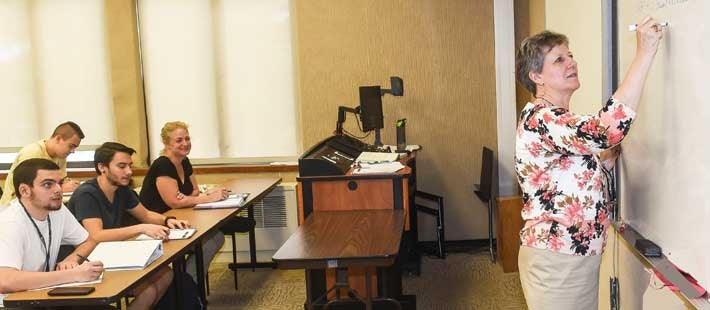 Concentrations  |  Financial Curriculum »  | Managerial Curriculum »  |   | Faculty
The accounting major at Pitt-Johnstown is led by faculty committed to helping students acquire core competencies in areas of study for financial and managerial accounting.
Students develop a deep understanding of contemporary issues in their field that is vital for success in the job market or graduate study.
Graduates from the program maintain strong ties to Pitt-Johnstown through active membership in the Accounting Alumni Advisory Board. This commitment from alumni provides current students with networking opportunities that lead to shadowing, internship, and employment opportunities.
Concentrations
Financial Accounting
The Pitt-Johnstown financial accounting concentration is based upon the Certified Public Accountant (CPA) model.
Students complete basic intermediate-level courses, various electives, and are encouraged to expand their basic knowledge of financial accounting and reporting to other areas of accounting.
These areas include:
individual taxation
business taxation
government and nonprofit accounting
accounting information systems
advanced accounting topics (i.e. consolidations, partnerships) and
business law topics
The faculty blends classroom experience with real-world expertise within the changing business and technical environment.
The accounting department has been successful in placing students with the Department of Army, Department of Navy, Big-Four CPA firms, National, Regional and Local CPA firms, Pa Department of Revenue, PA Civil Service, hospitals, nonprofit organizations, manufacturers, retail, and service organizations. Faculty have also assisted students in obtaining entrance into graduate schools.
The American Institute of CPAs is the national organization that provides information on this type of accounting.
Managerial Accounting
The Pitt-Johnstown managerial accounting track is designed for students wishing to pursue a career in Certified Management Accounting (CMA).
The program's strong emphasis on finance includes courses focusing on identifying and meeting the information needs of users within an organization.
Students learn, through classroom instruction and real world experience, how to:
establish organizational goals
plan and control an organization's activities and evaluate performance
Completion of the degree enables students to collect and analyze information required for cash flow, inventory management, credit management, fixed asset management, and budgeting.    
The national organization that provides information on management accounting is the Institute of Management Accountants.