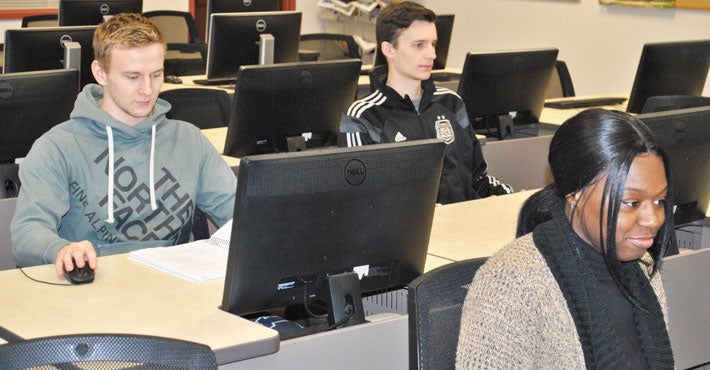 Pitt-Johnstown's Information Systems program is innovative and unique, offering a flexible interdisciplinary curriculum preparing students to address the computing needs of the modern workplace.  Technical integration is needed for almost every field of employment, whether that be in: government, marketing, healthcare, gaming, accounting, geography, manufacturing, supply chains, and more. These integrations need computational thinkers, who are able to demonstrate both a technical and field-specific mindsets as they address problems or opportunities for their organizations. 
Information Systems are all around us, even if we aren't accustomed to calling the software we're using an "Information System".  What it's called doesn't negate the fact that the application you're using is usually indeed, an "Information System". A website to socially network, order products, view sports scores, find a restaurant, or even manage the finances for the family business is likely to be an Information System. To go a step further, an app on your phone, an application on your TV or even a device that responds to what you verbally tell it, is just one piece of a larger Information System.
As an Information Systems student, you'll learn to:
Understand the needs of the software users & design solutions to meet those needs
Become a liaison between technical staff and experts in a particular field
Fuse the connection between technology and areas of operation for an organization
Streamline organizational processes through the use of technologies
Apply Non-Coding Technical Skills to solve common business problems
Be resourceful and contribute in all areas of an information system acquisition
Students concentrating in Business, Healthcare or Geographic Information Systems will be trained to think analytically and logically like programmers, but will exhibit a tradeoff of stronger communication and business-oriented skills over in-depth programming knowledge. Students will NOT be trained to be programmers, but will receive an education to work with and support the efforts of programmers. Writing code, much too often steers young technologists away from the field of computing, but Pitt-Johnstown's Information Systems curriculum is geared to provide in-demand alternative technical skills to students interested in the computing space.  
IS Majors will choose one or more areas to concentrate, which will provide a tailored curriculum focused on specific career paths. Accompanying that is a wide-array of technical electives to bolster their knowledge, scratch curiosities and position them for future job opportunities.
The IS program focuses on immersed-experiential learning, where every class puts students into real-life scenarios through hands-on simulations and project work.
Based upon concentration and course selection, Information Systems students will have the option to study:
| | | |
| --- | --- | --- |
| Human Centered Design | Mobile/Web Design | User Experience Design |
| Rapid Prototyping | Project Management | Agile Methodologies |
| Quality Assurance | Activities, processes & responsibilities | Software Testing & Automation |
| Data Science | Data Management  | Data Visualization |
| Business Intelligence | Information Technology | Networking |
| Cloud Computing | Networking | Cybersecurity |
Students should feel free to reach out to the faculty of the Information Systems Department, to see if Information Systems is the right fit for you!
Schedule your appointment today! See Below...