The Nursing and Health Sciences Building on the Pitt-Johnstown campus held its grand opening on September 27, 2013, and kicked-off Homecoming Weekend.
The building has many state-of-the-art attributes and features.
The $12 million facility includes 11 laboratories for chemistry, biology, and nursing, six faculty offices, and two seminar/classrooms spread over two floors.
The 26,000-square-foot structure is a significant component among capital projects on campus in the past five years, totaling more than $30 million.
The building has a sustainable/green design that is expected to earn Leadership in Energy and Environmental Design (LEED) certification, thereby becoming the first LEED-certified building on campus.
A groundbreaking ceremony was held on Monday, August 27, 2012.
The Nursing and Health Sciences Building is the first academic building to be constructed on the campus in nearly two decades and complements the academic quad formed by Biddle, Blackington, and Krebs Halls, and the Engineering and Science Building.
Nearly 20% of all Pitt-Johnstown students are pursuing majors in the medical professions, including the recently revamped pre-med program.
The Bachelor of Science in Nursing (BSN) program graduated its first class in the spring of 2013.
Pitt-Johnstown has a partnership with Windber Research Institute that promotes education in the vitally important STEM (science, technology, engineering, and mathematics) fields.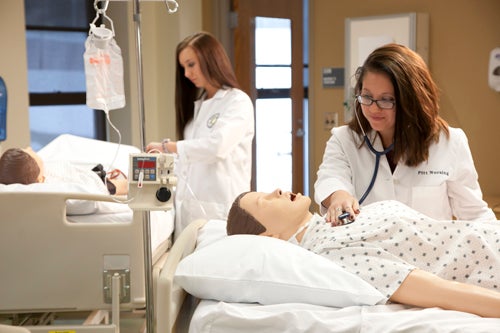 With laboratory and classroom space for growing programs in biology, chemistry, and nursing, the facility will meet the educational needs of a large majority of Pitt-Johnstown's overall student population that includes not only the students who major in those areas, but also those who complete coursework in areas as required for graduation.
Construction was managed by Pittsburgh-based Mascaro.