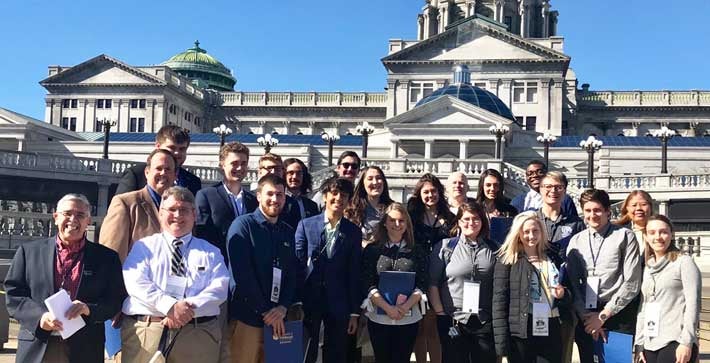 Curriculum » | Minor Curriculum » | Courses »  |  Faculty
The Pitt-Johnstown political science major studies governments, political processes, public policies, and political behavior, in both historical and contemporary perspective.
The curriculum includes courses that examine political philosophy and ideology, policy studies, politics in western and non-western systems, global economy, and international organizations and movements, as well as in core areas of American politics, such as the Presidency and Congress, electoral politics, foreign policy, and constitutional law.
The departmental faculty are actively involved in wide-ranging subjects from public land policy and natural predators, to free speech, free press, and African politics as portrayed in the cinema. Working closely with the faculty, students develop writing, communication, and analytical skills critical for careers in private, non-profit, or public sectors; current affairs; or fields requiring advanced study, such as law, public affairs, political science, and international relations.
Many students take advantage of real-world opportunities to gain experience and skills necessary for a successful career in the field. The department publishes a Political Science Alumni Newsletter titled Federalist Papers ». Students may be recognized by Pi Sigma Alpha, the National Political Science Honor Society ».