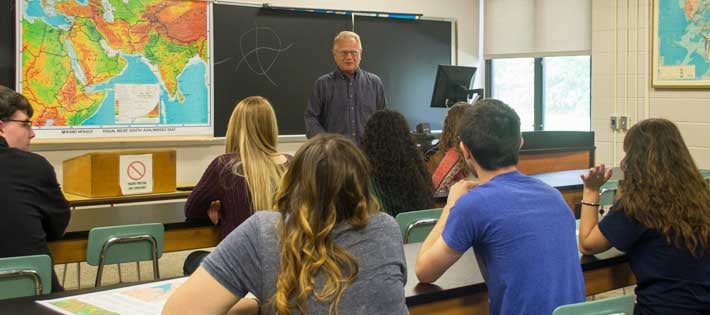 Curriculum »  |  Minor Curriculum »  | Courses »  |  Faculty  |  History of Department
Pitt-Johnstown offers the only geography degree program within the University of Pittsburgh system!
Geography is a discipline that integrates the environmental and social sciences. Geography studies location, places, regions, human-environment interactions, and movement. Its tools include cartography and geographic information systems (GIS). On the job, Geography graduates address social, physical, and environmental problems from the global to the local scale. Click here for Pitt-Johnstown Geography alumni jobs.
Geography courses address topics that include urban planning, energy consumption, population dynamics, water resources, soil analysis, climate change, natural hazards, and many others. Methods courses emphasize map design, remote sensing, drone technology, and spatial analysis.
Geographic Information Systems (GIS) is a technological field that uses geographically referenced data to create maps and analyze real-world situations. GIS is computer-based mapping, which involves creating maps, manage spatial data, and to analyze and solve problems that involve geographic information. GIS is used in transportation analysis, natural resource management, urban planning, corporate location decisions, and many more fields! Any student can pursue our 18-credits GIS certificate.
If you are interested in the environment and sustainability, also consider our "sister program" Environmental Studies, which is housed in the Geography Department. Many students double-major in Geography and Environmental Studies. 
Contact
Geography Department:
110 Krebs Hall
Ola Johansson, 
PhD, Department Head
814-269-2922  | 
johans@pitt.edu