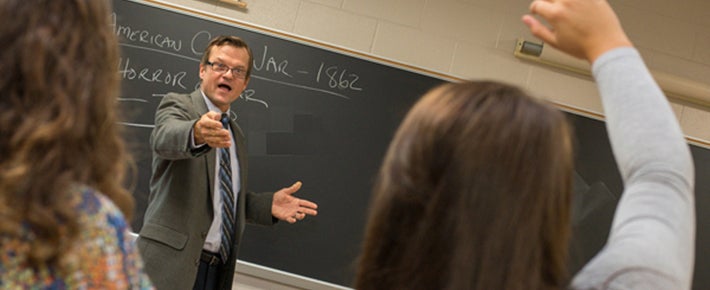 Curriculum | Minor Curriculum |  Courses |  Faculty
Pitt-Johnstown offers a comprehensive selection of courses and classes leading to a Bachelor of Arts degree or minor in history.
History department faculty are actively engaged as scholars in their field through research, publishing, and membership and leadership in several professional organizations. They serve not only as teachers in the classroom, but as mentors to their students, providing a critical link to other professionals in the field.
Some graduates have gone on to advanced study in the field, while others enjoy successful careers in areas including government service, higher education, public administration, community and regional planning, and as museum archivists and administrators.
History is an all-inclusive discipline; almost all subjects from art to zoology, begin with their relevant histories.
Great Americans Day
Since 1998, Pitt-Johnstown's annual Great Americans Day Citizenship Forum has celebrated the lives of a wide range of citizens, from Presidents and First Ladies to authors and professional athletes. Pieces of their lives provide models of civic virtue — the sacrifice of self-interest for the public good — that the founders intended to be the glue of our Republic. The program is presented by Pitt-Johnstown's History Department, the Phi Alpha Theta International History Honor Society, and Sodexo USA.
This series is intended to promote the American ideal of civic virtue central to citizenship and to remind us that the continued success of our society depends upon both individual and collective contributions. Prior programs focused on the lives of Abraham Lincoln, Alexander Hamilton, Eleanor Roosevelt, and Will Rogers to name a few. The event is sponsored by the Howard M. and Adelle C. Picking Great Americans Day Forum Fund.