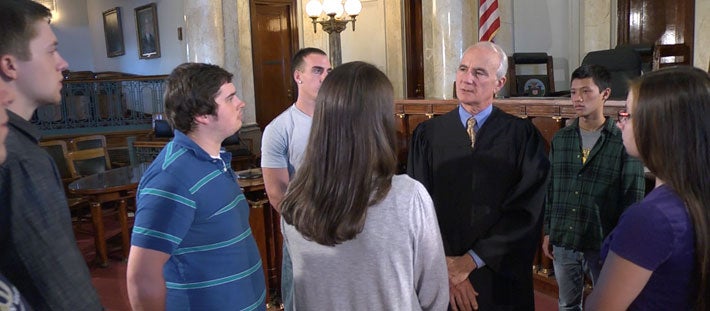 Pitt-Johnstown has a solid record for placing graduates in law school. Pre-law – while not a major, minor, or series of courses – refers to anyone who wants to explore, prepare, and apply to law school. Law school requires no prerequisite courses and has no preferred majors.
At Pitt-Johnstown, our pre-law advisor will guide you from course selection to LSAT preparation and the application process.
Pitt-Johnstown offers a complete pre-law advising process, including access to all information and catalogs students should need, and a pre-law advisor experienced in the application/matriculation process. The advising process usually begins during the junior year. At that time, application forms, catalogs, information packages, materials on law careers, and full information on Law Board examinations, will be available to students.
Resources
Pre-law is not a major, but a pre-professional designation that prescribes no set curriculum. Students should choose elective courses that will develop their basic analytical and critical thinking skills in preparation for law school admission and the Law School Admissions Test (LSAT). 
Pitt-Johnstown's recent graduates have gained admissions to the finest law schools not only in our region (Pitt,. Dickinson, Duquesne, and Temple), but some of the best in the country (Harvard, Penn, Cornell, Columbia, Duke, and Notre Dame). This success is due to mentorship by faculty and a wide range of courses that Pitt-Johnstown offers in which students develop strong analytical, critical thinking, and communication skills.
Traditionally, students complete an undergraduate degree within the social sciences but gain degrees in other disciplines. Law schools encourage undergraduate students to pursue diverse courses of study because the study and practice of law is involved with so many dimensions of society. 
Resource Links
Contact