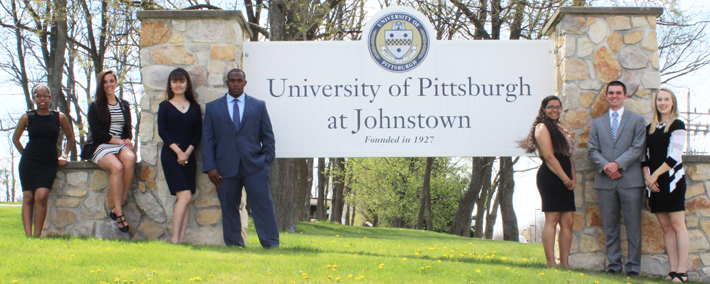 Get ready. Get involved. Make a difference. Embrace and enjoy your world.
At Pitt-Johnstown, we are committed to providing students with a solid foundation for career and professional success.  Pitt-Johnstown is proud to say that 96% of graduates are successful in their chosen path, whether that be graduate school, military, employment, service, or otherwise. (based on a 2019-2020 post-graduate survey).
By combining classroom learning with co-curricular experiences, we help students develop an ethos of real-world commitment. Student Affairs team members work closely with students to guide them in areas including civic engagement and citizenship, career preparation, collegiate involvement, and community engagement. Our goal with every student is to:
Emphasize the importance of developing and following a pathway for career and professional development;
Promote and recognize active engagement on campus, in our local community, our country and the world;        
Recognize and affirm efforts to develop habits of leadership, involvement, service and citizenship while acting locally or globally to improve our communities;        
Facilitate students' personal and professional development by augmenting or supplementing classroom learning with rich out-of-class experiences;      
Track and document students' growth and development throughout college life;   
Build awareness of the importance of positive action -- beginning with the self and extending to the campus, our community and our world;
Enhance prospects for success in an increasingly competitive world as the student presents prospective employers or graduate schools with a record of his/her accomplishments.
Real World Advantage
Pitt-Johnstown provides students with a coherent and manageable way to navigate the collegiate experience, which extends learning beyond the traditional classroom walls.
Students who fully engage in the opportunities available to them will be able to confidently articulate their out-of-class experiences to prospective employers and graduate schools, and demonstrate that they have become well-rounded and marketable.
Working closely with members of the Student Affairs team reinforces, recognizes, and affirms efforts to develop habits of leadership, involvement, service, and citizenship while acting locally or globally to improve our communities.
LEADERSHIP There is a strong expectation that the student will exhibit habits of leadership, including curiosity, creativity, judgment, determination, and integrity. As an emerging leader, the student will demonstrate ability to motivate and enable others to achieve common goals.
INVOLVEMENT The program prizes involvement of an intense, sustained, or frequent nature. The students will not be by-standers-- not in their own lives, nor in the affairs of our community and our world. They must take an active part in shaping his/her personal development as well as in participating on campus, in the community, and in our world.
SERVICE The ability to give one's time and talents to a common cause is especially valued in the Real World Action Program. Therefore, the student is urged to demonstrate a spirit of service as well as an appreciation of the importance of service on campus and beyond.
CITIZENSHIP Using one's voice to improve quality of life in a community or support an important issue or topic is a responsibility of everyone. Through active civic engagement, you accept responsibility as a member of a community and become versed in issues, resources, and local and national elections.
---