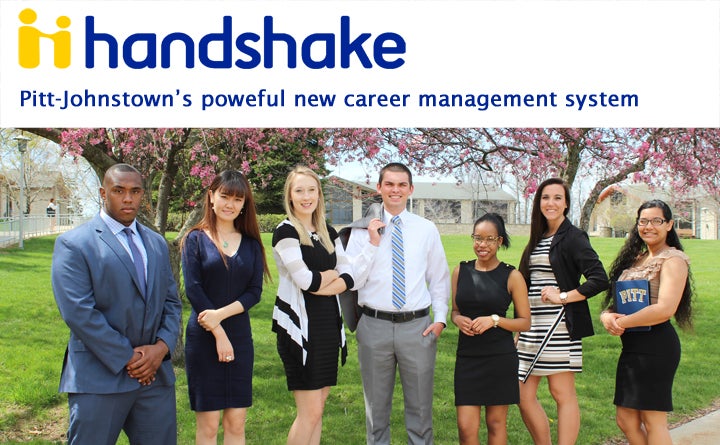 Pitt-Johnstown's combination of academic excellence and real-world experience produces strategic thinkers who are ready to energize your workforce!
Our team is ready to provide you with:
on-campus recruitment opportunities
visibility for your organization
information sessions
online access to student and alumni resumes through PJ Links
Recruit Pitt-Johnstown
On-campus recruiting is a simple and highly effective way of finding interns and/or future employees. The first step is to contact the Real World Career Services Office to set up a date that is convenient for you to visit our campus. Once a recruiting date is confirmed, we will inform students and alumni of your recruiting date and ask them to submit résumés, which we will fax or email for your review. Once you decide whom you wish to interview, we will set up interviews based on your availability. Please allow three weeks from the time you initially contact us until the first interview is scheduled. For your convenience, here is a campus map.
The following criteria must be met before recruiting Pitt-Johnstown students:
Your business contact must have a legitimate business domain e-mail (no accounts using Gmail, Hotmail, Yahoo, or others).
Your business must have a legitimate website.
You must provide a physical address and phone number.
Employers who require students to purchase supplies or other materials upon employment (such as sample products) are not eligible to recruit through our office.  We do not post babysitting jobs or other positions where an employee will work out of someone else's dwelling (house, apartment, condo, etc).
Post Jobs and/or Internship opportunities
The best way to get your opportunities in front of our students is to post on Handshake, a powerful, modern platform for college recruiting that offers your team many great features including:
Managing multiple campuses with Handshake at no cost
Easily post jobs and view applicants using Handshake's responsive design
Get started!
Set up a Handshake ​» account with step-by-step guidance on using its many features.
Request University of Pittsburgh as one of your campuses, we will approve your account and you can begin posting.
Post a position on Handshake » 
Industry Tours
Pitt-Johnstown, Johnstown Area Regional Industries (JARI), and the Greater Johnstown-Cambria County Chamber of Commerce work together to promote awareness among students of industries and opportunities that exist in the region. Through the Industry Tour initiative, students learn about local business and industry, while the organization has an opportunity to meet talented students and discuss new business internship opportunities. The goal is to create a strong local talent pipeline that informs students about what is being imagined, developed, and sold from the region, as well as provide the possibility of new professional training opportunities.
Career and Internship Fairs
Career and Internship fairs showcase the opportunities that exist at your organization while interacting with potential hires. Our office sponsors an annual Career & Internship Fair during the spring term.  To reserve your space at the fair, contact Kim Shook.  
Additionally, several departments sponsor discipline-specific job fairs for students throughout the year. To learn more about those opportunities, please contact our office.
Share your Knowledge and Experience
No matter where you live, you can volunteer to conduct mock interviews, host a tour of your workspace, provide externship or job-shadowing opportunities, or serve as a panelist/presenter.
To indicate your interest in becoming a volunteer for any of these services, email or call 814-269-7123.