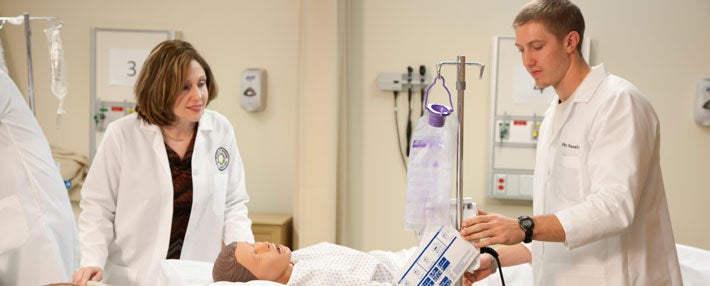 The University of Pittsburgh at Johnstown has a strong commitment to educating undergraduate students preparing for careers in medicine and health-related sciences. Many Pitt-Johnstown students are in degree programs in preparation for employment or further graduate study in nursing, medicine, rehabilitation, optometry, dentistry, podiatry, or veterinary medicine.
Between 1999 and 2011, the average acceptance rate into medical school was 97.8%, while the acceptance rate into dentistry and podiatry schools has been 100%.
Students in the pre-med program work closely with faculty and medical professionals who guide and mentor them throughout their time at Pitt-Johnstown. Among the opportunities available to you at Pitt-Johnstown are:
Individual academic advising sessions during which you will identify career goals, choose a major, discuss course requirements, and establish a timeline for completing your studies
Job-shadowing experiences, internships, and preceptorships at our region's leading healthcare facilities and research centers, which will provide you with real-world experience and a first-hand understanding of benefits and opportunities of your chosen career
Research experiences, including participation at the annual Symposium for the Promotion of Academic and Creative Enquiry (SPACE), which enable you to connect theory-to-practice while making meaningful contributions to your career field
Events, such as group informational sessions and workshops with community members in health professions, to help you establish a professional network
Membership in the Health Sciences-Medical Real World Interest Group, which connects you to other students, faculty, and staff with shared interests
Guidance on the review, selection, and application processes for professional school including mock interviews and Medical College Admission Test (MCAT) preparation
Recommended Coursework
Requirements

The following is a summary of the general and specific coursework requirements for students wishing to apply for medical and most other professional programs. There are specific requirements for some programs. A very few schools have unique admissions requirements and before seeking admissions to them you should review each school's literature for that information.

Generally, professional schools require completion of 90-100 semester credits of undergraduate work from accredited colleges or universities before applications will be processed. Exceptions are sometimes granted for extraordinary performance or where unique arrangements have been made with specific schools. (For instance, high school students with exceptional credentials can apply for acceptance to a program established between Pitt-Johnstown and the Pennsylvania College of Optometry that may allow entrance after the junior year if performance remains consistently superior.)

Usually, the following coursework must be completed before admissions exams can be successfully completed:

2 semesters of introductory biology with lab (BIOL 0110, 0111, 0120, 0121)
2 semesters of introductory chemistry with lab (CHEM 0111, 0112, 0113, 0114)
2 semesters of organic chemistry with lab (CHEM 0231, 0232, 0233, 0234)
2 semesters of introductory physics with lab (PHYS 0140, 0141, 0142, 0143)
mathematics through 1 semester of calculus (MATH 0221)

General Education

In addition, students are expected to have general education courses including composition and other courses typical of Arts and Sciences baccalaureate programs. Some professional programs may have special requirements (e.g. optometry requires microbiology [BIOL 1185] and statistics [MATH 0212]). Some schools may also have additional requirements.

It is advisable to take some additional science courses in preparation for the admissions exams. Most students take Genetics (BIOL 0350), Cell Biology (BIOL 0360), and Animal Physiology (BIOL 1125). Biochemistry (CHEM 1321, 1322) is often cited by professional students as helpful.
Contact