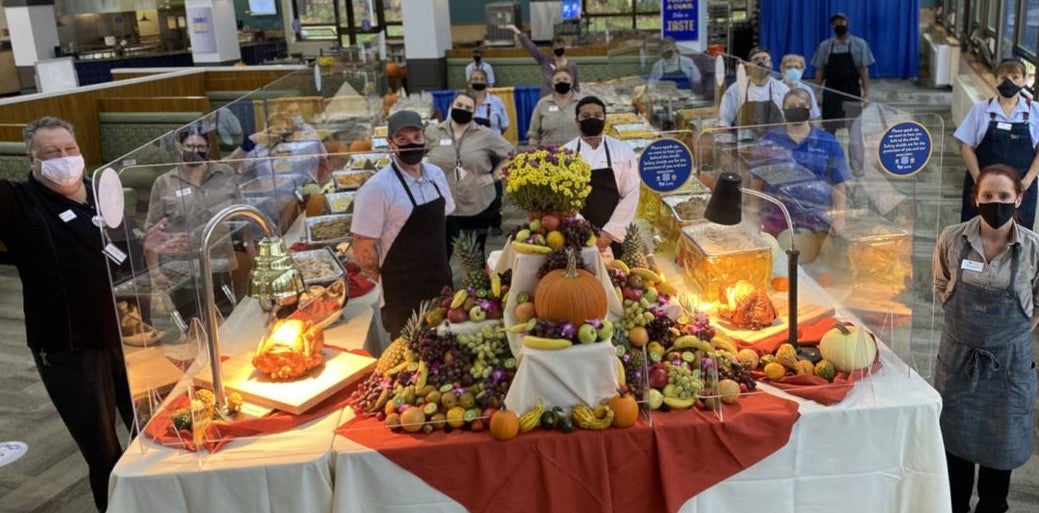 The Pitt-Johnstown meal plan structure features a combination of meals and dining dollars. Prices are per semester. 
Meal Plans for 2021-2022
Meal plan prices are per-semester.  
Resident Plans
| | |
| --- | --- |
| Plan | Cost |
| Ultimate* (unlimited) +$150     | $2,475 |
| Plan 1*    165 meals +$450  | $2,215 |
| Plan 2*    150 meals +$350   | $2,035 |
| Plan 3*    125 meals +$475  | $2,035 |
| Plan 4     120 meals +$400 | $1,920 |
| Plan 5       75 meals +$385  | $1,755 |
*first-year meal options
Commuter Plan*
| | |
| --- | --- |
| Plan | Cost |
| 55 meals +$220 | $975 |
*Commuter Students; Townhouse Residents; College Park Apartment Residents only
Housing Rates are separate.
Selecting the right meal plan involves knowing your eating habits – Are you a breakfast eater? Will you be on campus during the weekends? How is your class schedule structured during meal times? Do you prefer an all-you-can-eat buffet or a grab-and-go sandwich or salad?
Keep in mind that a "Meal" from your plan is deducted each time you enter the Dining Hall to eat. If you don't have time to sit down with friends to enjoy your meal, you have the option of purchasing a To-Go Box and filling it with your favorite foods from the dining hall. This convenient option allows you to use a "Meal" rather than Dining Dollars.
"Dining Dollars" spend like cash at any of the campus eateries including the Tuck Shop, the Pitt Stop, and Daily Grind.
Walk-in Rates
Students not enrolled in a meal plan are still able to eat in PJ's dining hall, although a meal plan offers better value.  Payment can be made by credit card or Mountain Cat Cash and guests will be charged the walk-in rate based on the meal period:
Breakfast: $8
Lunch/Brunch: $11
Dinner: $14
Online Meal Plan Registration for Commuter Students 
Commuter students wishing to enroll in a meal plan should:
Log into the my.pitt.edu
Search for Johnstown Campus Housing & Dining Services task center
No housing deposit is required to use the services on this page
Under the "Commuter Meal Plan" heading choose Apply for a Meal Plan
Follow the on-screen instructions
You will receive a confirmation email once the application has been successfully submitted.
Meal Plan Calculator
Please use our Meal Plan Calculator to help determine the number of meals you plan to use during the semester.
Meal Plan meals are all-you-can eat dining in the dining hall. To-Go boxes are also available in the dining hall and count as one meal. Dining Dollars spend like cash at any of the dining venues.
Remember to allow for holidays and occasional weekends at home once you have calculated your semester total.