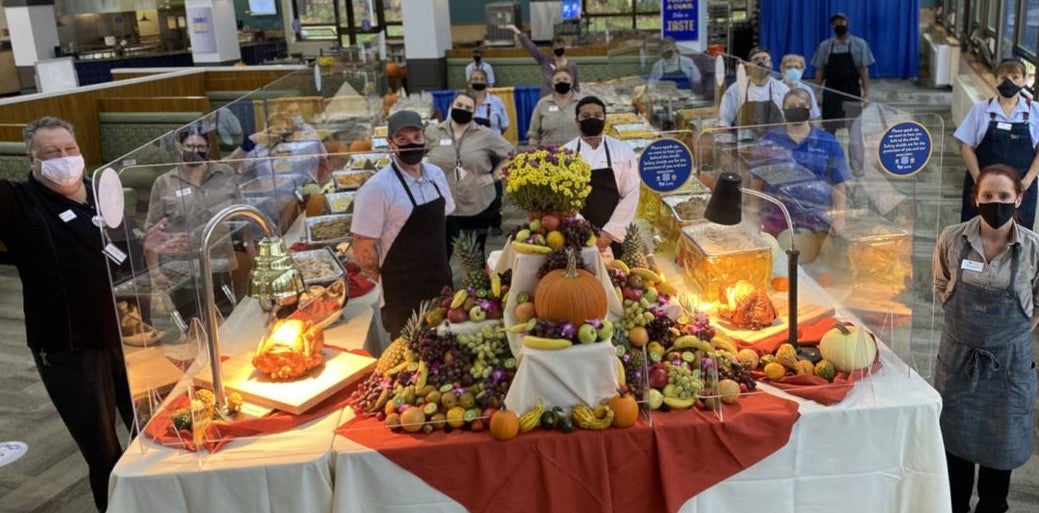 2022-2023 Meal Memberships
Selecting the right meal membership involves knowing your eating habits – Are you a breakfast eater? Will you be on campus during the weekends? How is your class schedule structured during meal times? Do you prefer an all-you-can-eat buffet or a grab-and-go sandwich or salad?  The Dining Services team can help you navigate meal memberships so you choose the one that's best-suited to you.  
Meal plan memberships (aka meal plans) have been updated for the 2022-2023 academic year to reflect the changing dining habits of our students and more closely align with what is becoming the industry standard in higher education dining.  Beginning in the fall of 2022, meals will be allocated per week instead of the entire semester (instead of the old "block" plans which provided a set number of meals for the entire semester).  The primary goal of the new structure is to help students better "budget" their meal usage.  The number of weekly meals included with each plan will reset at midnight  every Monday and will expire the following Sunday at 11:59 p.m.  The dining dollar amount included with each membership is for the entire semester. 
What's Included in a Meal Membership?
Each membership comes with a combination of meals and dining dollars.  Meals, often referred to as swipes or meal swipes, can be used during meal periods in PJ's Restaurant in the Student Union.  A meal is deducted every time you enter PJ's. Meal exchanges, the equivalent of a meal swipe, are available during breakfast from 7:30 -11 a.m. Monday through Friday at the Pitt-Stop and are also available during lunch, dinner, and late-night in the Tuck Shop.  Students are able to use up to 4 meal swipes per day (and 1 exchange during each meal period).   
Dining dollars spend like cash (dollar-for-dollar) at any of the campus eateries including the Tuck Shop, the Pitt Stop, and Daily Grind.  Students can also use their dining dollars to purchase meals in PJ's at a special rate (guest meals do not apply). Other features included in the 2022-2023 residential meal memberships include:
"Going Green!"
We realize that sometimes students need to eat on the run but want a nutritious meal.  The "Go Green!" program provides students with a free, reusable take-out container that can be filled with their favorite items from PJs and then taken back to their room or wherever they need to be.  When they want to "go green" again, they simply exchange their container for a sanitized one.  Students enrolled in a residential meal membership receive one free container per semester.
Elite Meals
Beginning with the 2022-2023 membership year, elite meals, which offer premium entrées such as high-end cuts of meat and/or seafood, will be available in PJ's.  Each student will receive one generous portion of the elite entree served by a member of the Chartwells dining team. If students wish to return for a second (or third!) helping of the elite entree, they can purchase a ticket that will be priced accordingly for each subsequent serving.  
2022-2023 Residential Memberships
| | | | | |
| --- | --- | --- | --- | --- |
| Plan Name | Meals | Dining Dollars | Guest Meals | Cost* |
| 1a | 19/week | 500 | 10** |   |
| 1b | 19/week | 300 | 10** |   |
| 2a | 14/week | 500 | 10 |   |
| 2b | 14/week | 300 | 10 |   |
| 3a | 9/week | 500 | 10 |   |
| 3b | 9/week | 300 | 10 |   |
*rates will be available June 2022
**includes unlimited guest meals for parents
2022-2023 Commuter Meal Membership* 
| | | | | |
| --- | --- | --- | --- | --- |
| Plan Name | Meals | Dining Dollars | Guest Meals | Cost** |
| Commuter | TBD | TBD | 0 |   |
*rates will be available June 2022
**available to commuters, townhouse residents, and CPA residents
2022-2023 Walk-in Rates
Students not enrolled in a meal plan are still able to eat in PJ's dining hall, although a meal plan offers better value.  Payment can be made by credit card or Mountain Cat Cash and guests will be charged the walk-in rate based on the meal period:
Breakfast: $10
Lunch/Brunch: $12
Dinner: $14
Online Meal Plan Registration for Commuter Students 
Commuter students wishing to enroll in a meal plan should:
Log into the my.pitt.edu
Search for Johnstown Campus Housing & Dining Services task center
No housing deposit is required to use the services on this page
Under the "Commuter Meal Plan" heading choose Apply for a Meal Plan
Follow the on-screen instructions
You will receive a confirmation email once the application has been successfully submitted.
---
Current Meal Plans (2021-2022)
Meal plan prices are per-semester.  
Resident Plans
| | |
| --- | --- |
| Plan | Cost |
| Ultimate* (unlimited) +$150     | $2,475 |
| Plan 1*    165 meals +$450  | $2,215 |
| Plan 2*    150 meals +$350   | $2,035 |
| Plan 3*    125 meals +$475  | $2,035 |
| Plan 4     120 meals +$400 | $1,920 |
| Plan 5       75 meals +$385  | $1,755 |
*first-year meal options
Commuter Plan*
| | |
| --- | --- |
| Plan | Cost |
| 55 meals +$220 | $975 |
*Commuter Students; Townhouse Residents; College Park Apartment Residents only
2021-2022 Walk-in Rates
Students not enrolled in a meal plan are still able to eat in PJ's dining hall, although a meal plan offers better value.  Payment can be made by credit card or Mountain Cat Cash and guests will be charged the walk-in rate based on the meal period:
Breakfast: $8
Lunch/Brunch: $11
Dinner: $14