Welcome to Campus Dining!
We are proud to be partners with the Compass Group (the leading food service provider in the UK, Continental Europe, Australia, and the US) and its subsidiary Chartwells Higher Ed.  Chartwells' talented and experienced culinarians offer menus to meet the diverse tastes and dining habits of our campus community.  Food is prepared fresh daily in-house with careful consideration given to those students with food allergies and dietary restrictions related to medical conditions, religion (halal and kosher meals), and food intolerances. Whether you are dining in PJs (Student Union Dining Hall) or any of the retail locations on campus, the Chartwells team stands ready to ensure your experience is a great one!  Pitt-Johnstown EATS!  Be sure to visit the DineOnCampus page for additional information!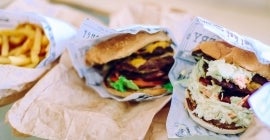 Dining Locations
Pitt-Johnstown offers a variety of dining opportunities including PJ's, our main Student Union Dining Hall, and several grab-and-go options. We have a dining option for every palate!