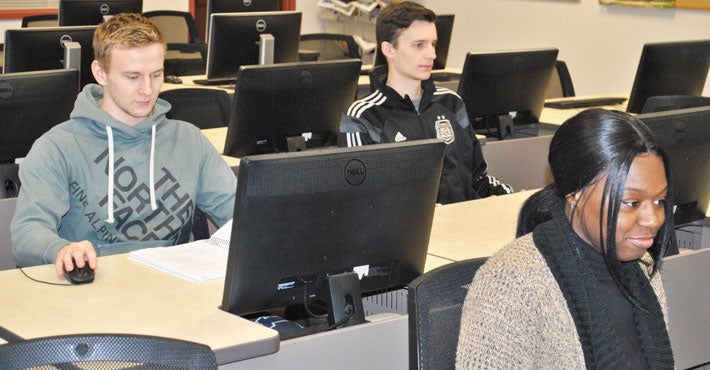 Curriculum » | Courses | Course Schedule » | Faculty
Pitt-Johnstown offers a new major in Multimedia and Digital Culture (MMDC). Within this dynamic, evolving field, our program focuses on developing students abilities at the interdisciplinary intersections of the Humanities and Digital Technology. It explores the emerging field that capitalizes on electronic media, new media, digital humanities, and creative media.
The Multimedia and Digital Culture major engages students in the latest, most innovative human-computer interactions within a curricular framework that also emphasizes effective communication skills and the theoretical and philosophical context of our world's digital culture.
Any digital studies program contains both "born" digital media (artifacts formed through the use of code) and digitized media (objects converted from print or analog forms into digital forms).  Students in some of our current digital courses are already studying and producing born digital media while others are exploring the uses of digitized media. 
The mission of the Pitt-Johnstown Multimedia and Digital Culture program is to offer students an intellectually challenging, interdisciplinary curriculum that will lead to careers in the digital world or to graduate study.
With a strong grounding in the liberal arts and sciences, the program's students focus on three goals:
Sharpening the communication skills involved in clear, effective writing and speaking, and understanding how language is made and shaped via computers.
Gaining the practical and applied experience to be able to manipulate various forms of digital media.
Exploring the theoretical and philosophical context and ramifications of our digital culture.
The interdisciplinary major draws from coursework across the Humanities Division, and selections from within the Business Division and the Computer Science Department.  The major consists of 43 credits arranged in three tiers—introductory, intermediate, advanced—and culminates in a Senior Capstone.
Contact
Jeremy Justus, PhD, Interim Department Co-Chair
Biddle 221
814-269-7214 | JEJ39@pitt.edu
or
Marissa Landrigan, MFA, Interim Department Co-Chair
Biddle 233-A
814-269-7148 | ProfessorMarissa@pitt.edu