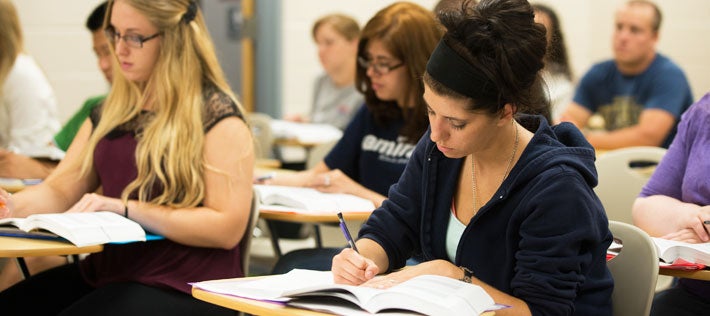 Curriculum »  |  Courses »  |  Course Schedule »  |  Faculty
"The unexamined life is not worth living," according to Socrates. The Pitt-Johnstown program in philosophy will help you examine all aspects of human life, not only your own, and will show you what is worthwhile about the history of ideas.
Philosophy examines foundational questions at the heart of all disciplines, questions like, "What is knowledge?" Or, "What is human nature? Are we, as humans, any different from animals or complex machines?" "What are the implications of answers to these questions for our civil liberties and moral responsibilities?" And, of course, questions like, "Does God exist?"
Pitt-Johnstown's philosophy courses span the entire history of western civilization, including the History of Philosophy from ancient to modern times.
Our curriculum comprises the gamut of scientific disciplines:
Philosophy of science
Bio and medical ethics
Philosophy of religion and science
We also teach the standard introductory courses in philosophy, ethics, and logic, as well as the philosophy of mathematics.
The philosophy department is small, yet it boasts a combined 35 years of teaching experience at both the undergraduate and graduate levels, as well as significant publications in the fields of philosophy of science, philosophy of language, and philosophy of mind and psychology. The department is complemented by a world-class program on our Oakland campus, whose resources are accessible to Pitt-Johnstown students.
Philosophy is an interdisciplinary science directed to answering questions about how all the specialized sciences interrelate to one another and how that interrelation affects one's conception of human nature. Thus, philosophy is the broadest of all interdisciplinary studies.
Contact