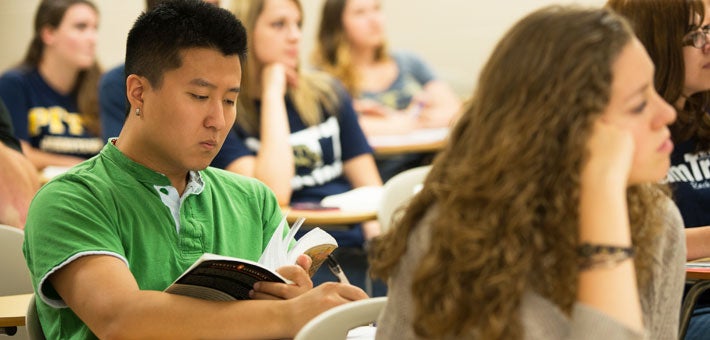 Curriculum » | Minor Curriculum » | Course Offerings | Faculty
The Pitt-Johnstown English literature program offers in-depth study of a range of genres, works, and authors in English and American literature and culture, from classical to contemporary; courses in literary theory and literary criticism are also included in the program requirements. 
Students benefit from independent study and research options, as well as the diverse and comprehensive range of regular course offerings. The English literature academic curriculum is enhanced by Pitt-Johnstown's wide and diverse range of cultural and extra-curricular opportunities, including film series, professional and local stage productions, and invited readers and speakers, including, most recently, the digital media scholar Dr. Sandy Baldwin and the poet Jericho Brown.
English Literature Minor
The English literature minor provides students with an overview of both British and American literature and then allows students to sample some of the upper-level specialty courses. Because all English literature courses contain a substantial amount of writing and writing instruction, the minor enables students from other majors to improve reading, analytical, research, and writing skills. With these skills, students can enhance any major with the English literature minor.
Contact
Ann Rea, PhD, Department Chair
223-C Biddle Hall
814-269-7166 | anr12@pitt.edu
or 
Humanities Division, Department of English Literature
233 Biddle Hall 
814-269-7140