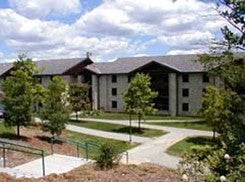 The Living-Learning Center (LLC), our largest residence facility, was completely renovated in 2020 and houses 400 upper-class students in two-person rooms with a private bathroom (featuring toilet and shower).
All rooms are air conditioned and include sink/vanity, a microwave, and mini refrigerator. Furniture includes a chest-of-drawers, desk and chair, bed, and wardrobe for each occupant.  Other amenities include laundry facilities, study areas, a recreation room, and convenient parking adjacent to the building.   
Room Size:
Dimensions: 12' x 14'
Space under beds: 11 3/4"