This residence facility houses 108 students in apartment-style living. The building features a common area, study areas, and laundry facilities.
Half of the 24 suites accommodate four students in private bedrooms, and the other 12 suites accommodate five students, and feature three private bedrooms and one double bedroom.
All suites include air conditioning, two bathrooms, a common living room, a shared storage closet, and a kitchenette.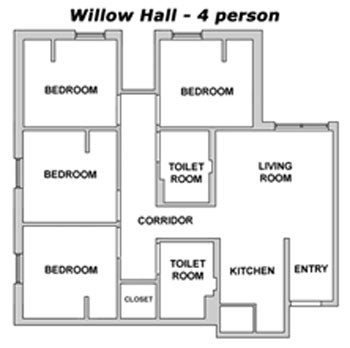 The kitchenette contains cabinetry, a sink, microwave, and full-sized refrigerator.
Each bathroom contains a toilet, shower, and sink. Bedrooms are furnished with a twin bed requiring extra-long twin sheets (double bedrooms will have bunkable beds), desk, chair, dresser, and closet.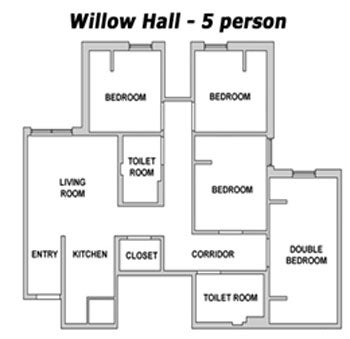 The living room is furnished with a loveseat, chairs, and one coffee table.
Each room has overhead lighting.
Single bedroom size: 10' x 10'
Double bedroom size: 17' x 10'
Space under beds: 10 1/4"