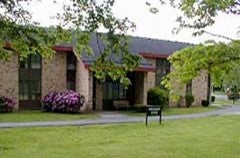 Pictured: Buckhorn Lodge, one of eight lodge facilities.
The North and South Lodges offer a unique community living experience to recognized clubs and organizations as well as individual students. The lodges feature two-room suites with a private vanity and an adjoining shared bathroom. In addition, each lodge has at least one large lobby or gathering place for its residents. Lodges accommodate groups ranging in size from eight to 24 residents. The entrances to all lodges are equipped with electronic locks requiring residents to swipe their ID cards for access.  
Each room is equipped with a microwave, refrigerator, and built-ins for clothing storage. 
All lobby areas are carpeted. Laundry rooms are available in the basements of Buckhorn, Briar, Hawthorn, Heather, and Larkspur lodges. A remote printing station is located in the lower level of Briar Lodge. 
South Lodges: 
8-Person Lodges  
16-Person Lodges  
North Lodges: 
8-Person Lodges:
Briar 3 & 5
Hawthorn 1, 3 & 5
Heather 3 & 5
Larkspur 3 & 5
16-Person Lodges
24-Person Lodges
Room Size:
Dimensions: 12'5" x 15'7"
Space under beds: 11 1/4"