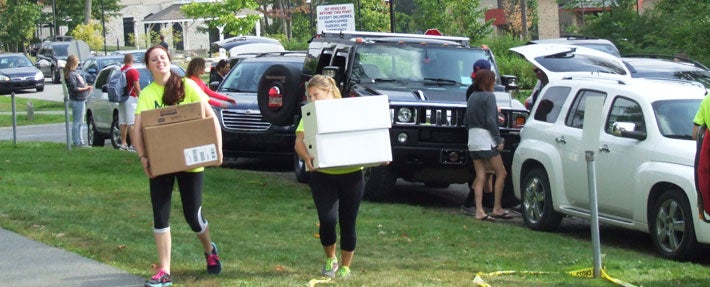 First-Year Student Move-In: Friday, August 14 and Saturday, August 15
Upper-Class Student Move-In: Monday, August 17 and Tuesday, August 18. 
Students will be assigned a specific day and time to move onto campus based on their housing assignments. 
The plan for campus move-in is currently being developed with the safety of our students as our top priority.  We are working with experts within the University of Pittsburgh and reviewing COVID-19 guidelines and recommendations developed by organizations including the Centers for Disease Control and the Association of College and University Housing Officers-International.  We are developing an FAQ for our web page and will be sharing additional information with students no later than the week of July 20.  We appreciate your patience and understanding
In order to make the move-in process as safe and easy as possible, several new procedures are being implemented this year.  The following is an evolving list of those procedures.  Please note this list is subject to change, so please check back frequently.  Final information will be provided to all students via email. 
In order to allow appropriate social distancing and regulate the number of people in the buildings, all students will be assigned a day and time to move into residence halls.  Assignments will be based on where the student will be residing for the year.  Unfortunately, move-in assignments cannot be changed unless there are extreme circumstances making it impossible for the student to arrive at his/her designated time.
Students will receive their move-in day/time assignment via email  the week of July 20.
Students will only be permitted in their residence hall during their assigned time.  Students who arrive on a wrong day and/or time will not be permitted to move in at that time.
Students who arrive late, beyond their assigned time, will forfeit their assignment and will need to be rescheduled by contacting the Housing Office. 
Students will be allotted 90 minutes to move all of their items into their rooms.
Students will be limited to two guests to help with the move-in process.  Guests should not be in a high-risk category.
Students and guests will be required to wear masks when inside all buildings. 
Students are encouraged to pack light. Remember…it will be August and everyone will be wearing a mask.
Students can ship belongings to campus in advance and they will be delivered directly to the students' assigned rooms. See the information below on how to ship your items.
While high-touch items such as moving carts, door handles, elevator buttons, stairwell railings, and public restrooms will be sanitized frequently, students and guests are encouraged to wear disposable gloves.
Due to the amount of time needed to sanitize moving carts, students are encouraged to bring their own handcarts. 
The first meal available under student meal plans will be the evening meal on Monday, August 17.  First-year students will be provided with meals as part of New Student Orientation.
Not sure what you should bring on move-in day?  Visit our What to Bring page. 
If you wish to ship items and have them placed in your room, they must be delivered to campus on or before Wednesday, August 5.  Be sure to include the following information on your shipping label:
Your Name
University of Pittsburgh at Johnstown
450 Schoolhouse Road
Your Room #
Johnstown, PA  15904
Additional information:
Students who do not have a student ID card will need to submit their photo electronically. The ID Center will NOT take photos in-person.  ID cards will be sent to students' home addresses.  Visit the ID Center's website for more details.
Thank you for your patience and understanding as we continue to plan in these unprecedented times.